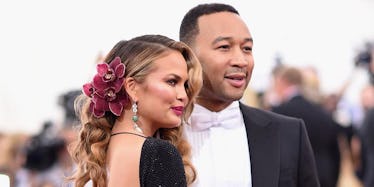 Chrissy Teigen's Post For John Legend's Birthday Is Actually Everything (Photo)
Getty Images
I think by now we should know Chrissy Teigen and John Legend are the most perfect couple in existence.
It's just common knowledge.
The lovebirds are OBSESSED with each other, and it's too freaking cute for words.
Also, if you haven't heard by now, THEY'RE HAVING A BABY. Yes, Chrissy is pregnant and couldn't be more excited.
In just a few more months they're going to become the cutest FAMILY in existence. Ugh, can you guys adopt me or something?
ANYWAY, today is John Legend's 37th birthday (HBD, JOHN) so, of course, Chrissy wished him a happy birthday on Instagram.
Chrissy posted this photo and wrote the sweetest, most hilarious caption I have ever read. Seriously, it will bring a tear to your eye.
Another year with you has flown by and I am so proud of what you've accomplished. Every year, I wonder how things can even get better but you always find a way. Happy *37th* birthday to the most wonderful, hard-working, loving being I, and anyone who has ever met you, have ever known. We love you, my handsome old man. Also I'm sorry I thought you were 37 all year.
Nope, I'm done. I can't handle how precious this is. Chrissy and John should be a reminder to everyone that love is real, and it's out there. HAPPY BIRTHDAY, JOHN, from all of us.
(PS. I'm serious, f*cking adopt me, OK?) Love you guys.