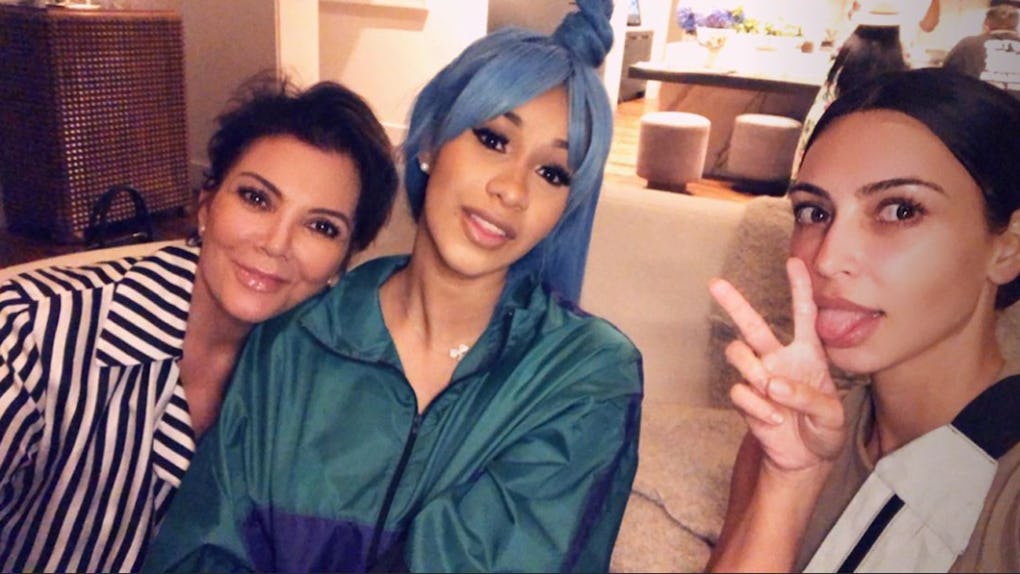 Kim Kardashian/Instagram
Photos Of Cardi B, Kim Kardashian, & Kris Jenner's Girls' Night Are Everything
New mom Cardi B spent her Saturday night keeping up with the Kardashians, and if the Instagram clips are anything to go by, this group of famous ladies is pretty much besties now. I mean, even Kanye got in on the fun at one point. Honestly, I'm kind of sad my invite got lost in the mail, because photos of Cardi B, Kim Kardashian, and Kris Jenner's girls' night in looks like they had the best time.
On Aug. 4, the "I Like It" rapper took the evening off from mom duties, and Cardi B headed to Calabasas for plenty of selfies with Kim K (no surprises here) — and all the Snapchat filter fun. It was Kardashian's late-night party, after all, and the selfie queen had fun teaching her guests the best angles. They also played around with sister Kylie Jenner's Snapchat lip kit lens.
In the first clip on Kim K's Instagram Story, Cardi B can be heard exclaiming, "I look like a different person" as she, Kim, and Kris Jenner try out the Kylie Lip Kit filter that automatically plumps your pout and adds some serious cheekbones with the contouring feature. Ever the supportive momager, Jenner chimes in, "You look so cute."
After snapping a selfie of themselves and recording a silly welcome video, the ultimate slumber party was just getting started. Kardashian took her guests on a tour of her mansion, before heading to her giant walk-in closet where she's snapped many a NSFW selfie. Kanye West joined the group as they playfully covered their faces with masks of Kris, Kim, and Kanye and posed for the camera.
"This is us looking really stupid," Kardashian tells the camera. "We're just late night in the closet looking absolutely stupid."
OK, is it just me or did you have no idea that the "Bodak Yellow" hitmaker, whose real name is Belcalis Almanzar, is this tight with the Kardashian clan? Looking back, there have been a few signs that they were starting to get close. She and Kim K had a "gang-gang" 'Gram moment with Madonna back in March for the Material Girl's Oscars bash. Plus, Khloé Kardashian has given the rapper's infamous "Okurrr" her own spin, so I know that Koko is a big fan at least. Speaking of "Okurrr," even the momager got in on the "Okurrr" fun by recording a video with Cardi B at the Met Gala in May.
For more possible proof of this famous friendship, fans were pretty sure that the love went both ways when Cardi B named her baby daughter Kulture Kiari Cephus. As all six women in the reality TV family sport monikers that begin with the letter "K," people couldn't help but wonder if there was a Kardashian konnection in there somewhere.
However, hanging out at someone's house is definitely next-level. Now that I've seen Cardi B make an appearance on Kim K's Instagram Story for the first time — and the pair are laughing and joking around like they've been BFFs forever — I'm shipping their friendship so hard and wondering why it took them so long to hang out like this.
It's still early days, but it would actually make total sense if these ladies took things to BFF levels. Plus, how amazing would it be if Cardi B made a cameo on Keeping Up With the Kardashians? I'm seeing way more meme-able moments in the future.