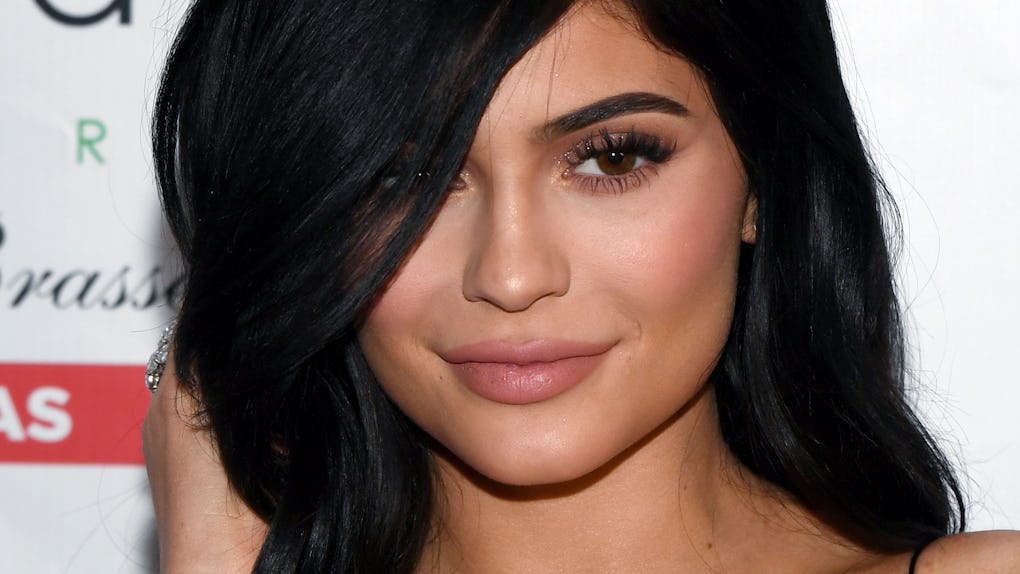 Ethan Miller/Getty Images Entertainment/Getty Images
The Photos Of Kylie Jenner Testing Her Instagram Filter With Caitlyn Is A Sweet Family Moment
If you haven't already heard, Kylie Jenner is launching a new Kylie Cosmetics collection on Aug. 6. And she's letting fans test some of her new lip kit shades on Instagram. That's right — Kylie and Instagram launched a Kylie Cosmetics filter that basically superimposes the lip kit shades over your lips so you can see which one is best for you. Since this is a big moment for Kylie, it makes sense that she'd share it with family. Photos of Kylie Jenner testing her filter with Caitlyn Jenner surfaced via Kylie's Instagram. And they're honestly adorable.
Kylie posted some sweet moments with Caitlyn to her Instagram Story on Wednesday, Aug. 1. In the clips posted to her Instagram, Kylie and Caitlyn are testing out the new Kylie Cosmetics filters and having a great time. And, in the process, Kylie taught Caitlyn a few new social media tricks.
At one point, Caitlyn asked what an Instagram filter is.
"What is an Instagram filter? I saw, 'Oh Kylie is using an Instagram filter.' What the hell is that?" Caitlyn said in one of their joint videos.
Kylie, of course, explained the whole thing. She basically said that people could, "try on all my colors and it just makes you look flawless with a little lash."
Sweet! Naturally, Kylie had to show off the filter and all the shades so Caitlyn could get a full understanding of what it's all about.
"I'm wearing Posie right now," Kylie explained. "I never have to leave the house without lipstick anymore."
Look how cute Caitlyn and Kylie are together:
And they each tried the same filter!
Kylie's new Instagram filter launched on Wednesday, Aug. 1, and caused quite a stir. Fans were trying it out left and right, proving that Kylie really is a marketing genius.
The new Instagram filter lets you test out a slew of different lip kit shades, including Candy K, Dolce, Posie K, Say No More, Shady, Boy Bye, and Glitz. To top it off, the new filter also smooths your face and gives you lashes, so you can achieve the signature Kylie Jenner look. Isn't technology wild?
The new filter comes just days before Kylie is set to launch an all-new collection in celebration of her 21st birthday, which is on Aug. 10.
She's even been previewing bits of the collection on Instagram:
Kylie captioned this photo with, "hi beautiful! 😍 21 shades for the #21COLLECTION launching August 6th! 🎉 see the rest of the collection on my stories @kyliecosmetics."
Here's another look at what she has in store for the Kylie Cosmetics fans out there:
So, Kylie definitely has her hands in a lot of things right now. A new Instagram filter. A new cosmetics collection. She even has a 6-month-old baby now. I mean, she's doing everything and she's absolutely killing it.
I bet Caitlyn is super proud of her youngest daughter for achieving so much at such a young age. It's truly amazing to watch Kylie work her magic.