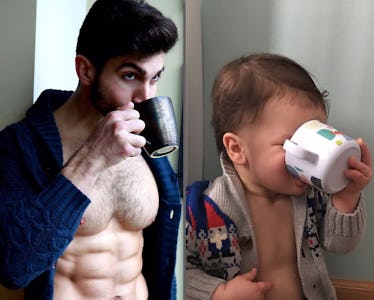 Adorable Little Boy Recreates His Uncle's Modeling Pics & It's A Cuteness Overload
When posing on Instagram, it's essential to nail your look — even if you're still in a diaper. One tiny tot decided (with the help of his mama) to get in on the social media action with a few snaps of his own, and we Instagram consumers are forever grateful for the magic he has bestowed onto our feeds. Photos of this boy recreating his uncle's modeling pictures are guaranteed to rake in more likes than imaginable.
Model Aristotle Polites (the adult) is the inspiration behind his big sister Katina Behm's Insta project. It all began when Behm unsuccessfully tried to get a shirt on her little man, Augie, yet couldn't manage to do so.
"The image of him with the shirt undone and his bare chest exposed made me laugh because he looked like he belonged on the cover of a romance novel," Behm told the Huffington Post. "I took a picture and then realized I bet my brother Aris has a picture just like this on his Instagram page which is filled with modeling photos."
"When I made the Instagram page it was at the request of friends who had been dying to have a place to send their friends/family/coworkers since previously the pictures were only posted on my private accounts and they were sharing them through email," Behm tells Elite Daily. "I really thought the novelty would wear off but after 12 weeks I was still getting asked to create a public account, and so was born @babyandthebody."
Just like that, a viral new social media sensation — a #ManCrushMonday like no other was born. Have a peek at Baby Augie's debut look for @babyandthebody.
Augie has since recreated his uncle's steamiest looks.
Augie — and Aris — nailed the laid back vibe, wouldn't you say?
Both apparently are musicians... sort of.
Both are skilled at gymnastics.
Both like to shoot hoops.
Without question, @babyandthebody is a cuteness overload that everyone needs in their lives. The page has become a sensation, and rightfully so. It's a good thing that this brother-sister duo likes to tease one another, otherwise we might not have been blessed with the adorableness.
"Everyone's reaction has been so fun to see because the account is doing what the pictures had originally intended, which is just to make people smile. It is crazy to see how fast and far the pictures have spread but as long as it's making people happy, I think it's a good thing," Behm says.
Augie isn't the only little dude who has made a social media splash. Earlier this year, little kids took a cue from their favorite Hollywood actors and actresses while recreating their Golden Globes outfits and looks from other high-end events. Pretty genius, right?
Here we have a mini RiRi from the Met Gala...
And the real Rihanna at the Met Gala.
See the uncanny resemblance between Emma Stone and Emma Stone Jr.?
Is that you Halle Berry?
Photographer and entrepreneur Tricia Messeroux — who clearly has a lot of talent and patience — created Toddlewood to show just how adorable little kids can be when reimagining an adult's best looks. Perhaps Messeroux and Behm should team up for an adorable collaboration like no other (please, please, please).
If we need a third party to join forces with Messeroux and Toddlewood, we need to get the Hugo sisters in on the action. The two blonde babies are not only adorable, but they have a wardrobe that's guaranteed to make the likes of Anna Wintour extremely jealous.
I don't know about you, but I'm pretty much ready to go on a shopping spree after seeing all of these looks. If you're going to get fashion inspo, who better to guide you than a little cutie?
Instagram is the best place for you to show off the things you love most in life, and obviously tiny tots are the core of those beliefs. Yes your #OOTD is cool... but it's a lot cooler on a kid in diapers.
Before I bid adieu, this is my final request for this dream trio to join social media forces and provide us with daily cuteness in our feeds. Again: Please, please, please!
Editor's note: This post has been updated to include quotes from Behm.
Check out the entire Gen Why series and other videos on Facebook and the Bustle app across Apple TV, Roku, and Amazon Fire TV.