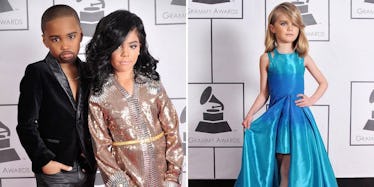 Toddlers Recreated The Best Looks From The Golden Globes And They're On Point
Toddlewood
Every year during awards season, fans of music and movies gather around a television hours before the actual awards, just to catch a glimpse of their favorite celebrities and hear the frequently repeated question: "Who are you wearing?"
Though 2016 seemed pretty apocalyptic, it wasn't enough to cure America of its lust for all things glamorous.
I've definitely been staring at Blake Lively's velvet Atelier Versace gown for like a week.
Anyway...
In 2008, photographer and entrepreneur Tricia Messeroux saw the opportunity to make something out of the incurable desire for anything involving celebrities – and it's pretty cute.
With some talent and a lot of patience, Messeroux recreates our favorite stars' red carpet looks for toddlers, and the results are as adorable as you would imagine.
Toddlewood is back for the 2017 awards season, and it's time for us to decide who wore it better at the Golden Globes.
Even though Blake Lively stuns in her gown, her tiny twin chose to flaunt a more natural look, and she looks equally as lovely.
This one is too close to call.
I can't tell whose ankles are skinnier...
Lily Collins is flawless in her light pink Zuhair Murad Couture ballgown, but the real star is the little girl, who carries the gown with a grace beyond her years.
We're going to have to give it to the kid.
In this adorable side-by-side, we see Viola Davis rocking a one-shoulder, bright yellow Michael Kors sequined number.
Ugh, but again the little girl is just too cute.
Sorry Viola, this mini-star just edged you out.
Janelle Monáe turned heads on the red carpet as she flaunted her custom Armani dress.
With crystals in her hair and the high-low dress exposing her long legs, you'd think that she wore it better than her competitor.
The little girl is just too cute. She even has matching crystals.
OK, so maybe I'm biased, but these kids are slaying the game.
And if you can't get enough of this cuteness, don't fret. The next award show is right around the corner.
The Grammys are February 12, and that gives these little angels another chance to one-up our favorite stars.