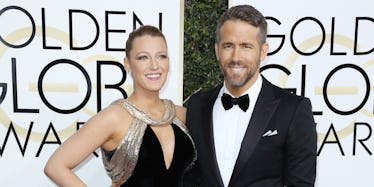 Blake Lively And Ryan Reynolds Are The Hottest Couple At The Golden Globes
REX/Shutterstock
The Golden Globe Awards ceremony hasn't even started yet, but Blake Lively and Ryan Reynolds already won the night.
The couple arrived at the Beverly Hilton in Beverly Hills, California Sunday looking absolutely flawless as they made their way down the red carpet.
Blake wore a gorgeous black and gold gown as she walked with her husband.
I mean, holy cow, look at her. She looks like a real-life living, breathing angel. I didn't think it was possible for a human to be so perfect.
While you're sitting on your couch shoving pizza down your throat, Blake Lively is gliding down the red carpet looking like a magical fairy princess.
Yeah, just think about that for a sec.
The handsome Ryan Reynolds looked pretty sharp as well. He wore a tux and bowtie and totally killed it.
Ryan is nominated for Best Performance by an Actor in a Comedy for "Deadpool."
The film is also up for Best Motion Picture for Musical or Comedy, so it could easily be a huge night for the actor.
Earlier in the day, Blake posted a photo of her getting ready for the Golden Globes on Instagram.
In the picture, you can see the mother of two wearing a robe as her glam squad does her hair and makeup.
She captioned the photo,
I did not wake up like this. Thank you @rodortega4hair@kristoferbuckle @enamelle@lorealmakeup @lorealhair
Yeah, THANKS GUYS! It's not like Blake Lively needs makeup or anything. She could have 15 pimples and two missing teeth and she'd still be prettier than me.
I'm not the only one crushing over the 29-year-old actress. Amy Schumer posted an Instagram of her fan-girling over Blake and Ryan on Instagram.
Amy captioned her pic,
Fun with friends! #goldenglobes
Be sure to watch the Golden Globes full ceremony at 8 pm ET on NBC tonight. Good luck, Ryan! We're rooting for you.