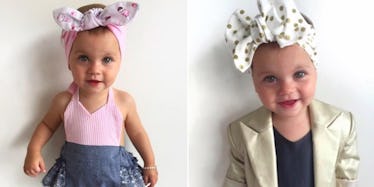 Adorable Toddler Is Winning On Instagram With Her Super Trendy Wardrobe
If hitting 3,000 followers made you feel Insta-famous, you're about to have your day ruined by a toddler.
Allow me to introduce you to Avaya Hugo.
Little Avaya is stealing hearts and dominating the kid's fashion scene on social media thanks to her adorable Instagram, which already racked up over 60,000 followers.
Yeah, this kid is pretty popular.
Avaya's mother, 22-year-old Carly Ashton, began uploading pictures of her daughter when Avaya was just 3 months old, and the photos featured this cutie in all sorts of stylish ensembles.
As a result of her social media savvy mother, Avaya has received over $15,000 worth of designer outfits and uses her charming Instagram to show off the new dresses she receives in the mail every day.
Carly told Metro,
It's amazing -- Avaya has more outfits in her wardrobe at 18 months than most women collect in a lifetime!
Watch out, North West, this stylish kid is coming for you.
Take a look at the pictures below to see this baby fashionista.
Meet Avaya Hugo.
Avaya may only be 18 months old...
...but this adorable kid already made quite a name for herself on social media.
When Avaya was 3 months old, her mother began posting Instagram photos of her daughter in all sorts of precious outfits.
It didn't take long for this pint-sized fashionista to become a social media star.
Thanks to her stylish snapshots, Avaya now has over 60,000 followers on Instagram.
If that's not impressive enough, she also modeled for the Kardashian Kids brand.
Avaya receives a constant stream of freebies from various baby brands as a result of her Internet fame...
...and she already collected over 500 free outfits, 50 pacifiers, bottles and baby diapers worth more than $15,000.
Every day, Avaya gets a new dress in the mail, which she shows off on her delightful Instagram.
Carly said, "Some people say I'm being pushy by posting so many pictures of my baby, but I ignore them."
"Avaya's a naturally happy child and just loves being in front of the camera. It's no surprise she's got so many followers -- she brings joy to so many people."
Apparently, Carly hasn't had to buy a single outfit for her precious daughter since Avaya was 4 months old...
...and I think it's pretty safe to assume Avaya has a more impressive closet than most adults.
Hopefully, Carly's other daughter, 6-month-old Aliza, will learn some fashion tips from her big sis and become just as Internet famous as Avaya one day.
Citations: This baby has 60,000 followers on Instagram and £10k wardrobe – and she's not even two (Metro)