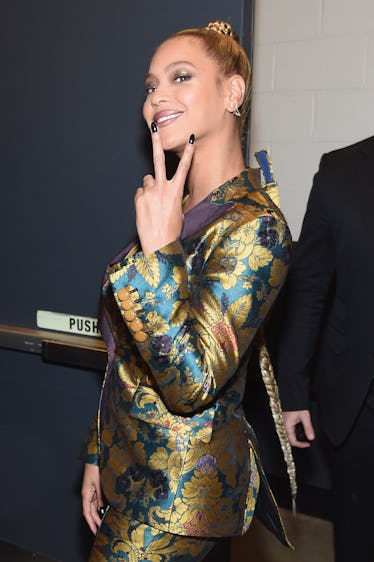 Beyonce Debuted A Fresh "Mom" Haircut & Of Course She Looks Amazing
Larry Busacca/Getty Images Entertainment/Getty Images
There's no better time than the start of a new year to refresh your look. It can give you a sense of renewal and a boost of confidence, which are both ideal things to have on your side while chasing your resolutions. So when photos of Beyoncé's mom haircut hit the internet yesterday, it felt like a sign from the hair gods saying, "Queen Bey went for the lob for 2018, and you should too." Or at the very least, "Queen Bey knows the power of a new look, so get on yours stat."
Indeed, the photos, which first appeared on Beyoncé's personal website, show the artist looking more fierce and confident than ever which, for Beyoncé, is saying a lot. The post is entitled "CHICHI GET THE LLELLO PART 2", and features images of Beyoncé rocking a chin-length crop and vintage looking sunnies. Some of the snaps were taken in Miami, where Bey and Jay-Z went yachting with the fam (Blue Ivy makes an appearance in one of these shots), and others were taken backstage at the Quicken Loans Arena in Cleveland. The photos all have a retro tinge to them, and feature an impeccably dressed Bey (my dream Gucci bag makes repeat appearances.)
But back to the haircut. As I mentioned, it's a chin-length bob with no noticeable layers and a curly, full texture. It frames Beyoncé's face perfectly, as do the honey highlights painted on some of the front strands. It's a dramatic departure from hairstyles in recent photos Beyoncé has posted to her Instagram as of late, in which her hair is pulled back into a super long and sleek ponytail, or piled on top of her hair in a gorgeous messy bun. If you're thinking that this bob looks familiar on Beyoncé, you're right; in 2014 the singer went for a similar cut after wrapping her The Mrs. Carter Show World Tour.
I've been debating cutting my long hair to just below my jawline and I must say, this makes the case for the lob. Granted, I'm not Beyoncé, who looks good with literally any style, but still. I have wavy/curly hair (it corkscrews underneath and looks mermaid-y on top) and have always been hesitant about cutting my hair too short in fear that it wouldn't lay right, but Beyoncé has put all of my worries to rest.
The internet has been quick to point out that others, however, might not be so excited about the cut, namely Bey's mom, Tina Knowles. Although she hasn't said anything about her daughter's new look directly, she posted a photo to her Instagram account earlier this month of Beyoncé sporting a super long and straight ponytail. The caption read, "INCHES!!!! So happy my baby's hair grew back !! She is going to get me," which seemingly indicates that Tina is a big fan of Bey with long locks.
Regardless, we're sure that Tina, aka the most supportive mom ever, doesn't really care too much either way. Both Beyoncé and Solange have rocked every hairstyle known to mankind, from bleach blonde pixie cuts to long cascading curls over the courses of their careers.
Plus, as we've mentioned before, it seems that buttery lobs are the style of the season, with Selena Gomez and Katy Perry both having recently stepped out in variations of the look.
Considering Beyoncé is known for serving new style after new style, this cut might not even last that long. Maybe she'll return to the infamous pixie that she briefly sported in 2013, or maybe she'll do something so unexpected that it will break the internet. Because if anyone's hair has the power to cause a site to crash, it's Beyoncé's.