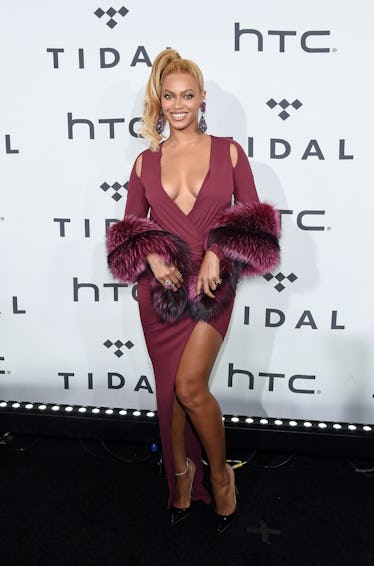 These Photos Of Beyonce's Hair Are Causing Controversy & I'm Honestly Insulted
Ilya S. Savenok/Getty Images Entertainment/Getty Images
The intersectionality of being a woman and being a black woman is one of the most complex things in the world. I can't even begin to explain the emotions. What I can tell you, though, is that the debate over the photos of Beyonce's natural hair is ridiculous.
When Bey stepped out to present Colin Kaepernick with the Muhammad Ali Legacy Award at the Sports Illustrated Sportsperson of the Year Awards, I loved her look. Her gold dress was amazing, her makeup was super dewy and fresh, and her iconic blonde hair was flowing. My initial thoughts were: What does Beyoncé use to tame frizz, and is she rocking a half-up/half-down style, or just one large ponytail? You can imagine my surprise when her hairstylist, Neal Farinah, relished in his client's look on Instagram, and the comments turned ugly. Trolls flooded the stylist's feed, claiming it wasn't all Beyoncé's hair and that her hair could never be that long and dense.
Debates about Queen Bey's hair being natural or not, her stylist lying about it, and comments about Black girls and women being unable to grow long hair cross the line to a deeper duality of what it means to be a black woman in today's society. Even our hair is up for ridicule, whereas experimenting with different hair styles is applauded for Caucasian women.
What should I expect though, right? If every aspect other of black women is debated, torn apart, and dissected on a daily basis, I shouldn't be so annoyed. A million people would say "Get over it, it's just hair." But this constant need for black women have to explain themselves, even when explanation isn't warranted, is the problem. Don't people have something more important to worry about?
I've made the conscious effort not to subscribe to such hateful negativity anymore, but I still have something to say. Black hair is beautiful — period — whether it's kept long, short, relaxed, or natural. If I choose to protect my hair with extensions, crochet braids, or regular braids, it doesn't matter if it's not really my hair. I really paid for it!
This myth that black women can't grow healthy natural or relaxed hair is the ultimate case of fake news. The fact that even Beyoncé's mother had to speak out in order to "prove" her daughter's hair is real is ludicrous. Bey's mom, Tina Lawson, posted the above pic on Instagram, captioning it "INCHES!!!! So happy my baby's hair grew back !! She is going to get me 😩."
I'm not sure where this narrative that black hair doesn't grow originated, but it's something even my mom and even grandmothers have heard. Black women are people: I'm not some alien who is so hard to get or understand. Genetics do play a role in some people's hair growing faster than others, but overall, black women's hair is capable of thriving when treated well... just like everyone else's hair.
It's not even because I'm a member of the Hive that I'm annoyed Beyoncé is being attacked. It's because it's so difficult for people to imagine that her hair is her natural hair, or the larger discussion that people are shocked her hair could be that long and thick. There's also the fact that because I choose to write this, I'll be deemed the "stereotypical angry black girl/woman" because it's not that big of a deal.
Before black women are even born, stereotypes and hang-ups are disposed onto them. Whether it's my hair, skin, or culture, everyday I have to make the conscious effort to not subscribe to what society thinks it knows about who I am. At the age of 23, I'm finally working through years of negativity that I didn't even consciously realize at the time.
My mother forced into me that my hair was beautiful, and I didn't believe it until almost three years ago. I subscribed to the notion that in any state, my hair was unruly, an inconvenience, and most importantly, not desirable. That I wasn't desirable. I hated myself solely because of what I read and heard outside of my household.
The comments Beyoncé's hairstylist and mother are confronting can have that same effect on black girls everywhere. It's not just our hair. I'm lucky that I grew up around a strong black woman who made me love being black, my culture, the richness of my melanin, and who I am — even though I can't pinpoint where I come from.
The fact that I can write these words and continue the necessary work to feel empowered in myself and my beauty is light years away from how I used to feel. I love this renaissance black women are going through, because it's beyond important. But don't take my opinion for that of all black women, because unlike what society believes, we aren't a homogeneous group. Each and every one of us has our own views, which is beautiful in itself. This is just me, a black woman, expressing myself in 2017.