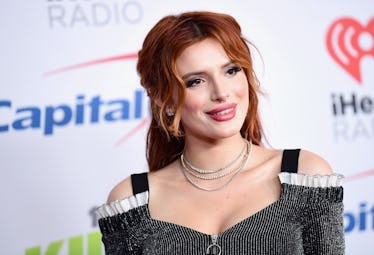 Bella Thorne Debuted A Bold New Hair Color & The Photos Will Literally Shock Your Eyes
Emma McIntyre/Getty Images Entertainment/Getty Images
If you've been thinking of changing up your dye job as of late, you might want to consider a hue off the natural spectrum. Trust me, it could add a whole other dimension to your look. Photos of Bella Thorne's red hair just might have you itching to try a color normally reserved for cartoon characters or superheroines because let's be real, who doesn't want to add a little fantasy to their life?
It seems that going for a red hue is the move of the week, seeing as Julianne Hough recently debuted her new amber hair. She looks like literal fire with the new color (it fits her more than her signature platinum ever did, IMO) and I feel a burning desire to try it out at some point in my life. Blondes might have more fun, but redheads bring the heat.
Whereas Hough's shade is certainly a more natural red, Thorne's is anything but. It's got an otherworldly, neon tinge to it that makes it look like it actually glows, and I think the only time I've ever seen anything like it was at an electronic music festival when an attendee dressed up as comic book character Poison Ivy. (It ruled.) It's actually quite fitting, seeing as Thorne is a fan of attending such festivals herself, and changes up her hair color often with outrageous dye jobs.
She's had long, hot pink waves; acid green tips; an inky teal; and, of course, her natural red hue. Thorne's edgy, at times punk-inspired style perfectly complements such colors, and she kind of reminds me of a modern day "F-what-anyone-thinks"-version of Avril Lavigne, who was my biggest girl crush in middle school. Take a look at a few of her most outrageous looks of all time and you'll see what I mean.
Thorne has been rocking her natural red for awhile but after a deep dive into her Instagram account, I discovered she actually tried out her new electric hue before, back in Nov, 2017. However, it appears the color was short-lived, as she was back to her natural hair within a number of days. Maybe it was a test run?
Yesterday, she posted a selfie with a caption that read, "This sh*t about to be so changed." Anyone who has even remotely followed along with the actress' beauty evolution could probably guess that she was hinting that a trip to the salon was in her near future.
Not long after the post, Thorne was spotted out with her boyfriend — rapper, author, musician, and poet, Mod Sun — and sister Dani with her freshly done neon cherry hair. Slightly darker at the roots and falling down in messy mermaid waves, it reminds me of an edgier version of Ariel a bit. She paired her new hair with a vintage-looking leather jacket, of-the-moment tiny sunglasses, and matching crimson lipstick, giving her an especially rocker-esque aesthetic. While unnatural, the color somehow works incredibly well on Thorne, who could probably opt for any color and still slay in it.
If you're inclined to opt for a high voltage color, just remember that it will require a lot of bleaching, and that a special product might be needed in order to keep your hair hydrated and strong. Kim Kardashian is a known fan of the Nexxus Emergecee Protein Treatment ($13; nexxus.com) and considering she, too, changes her hair on the regular, I'd trust the recommendation.
All women are heroes, but an unexpected hair color could make you feel that much more of a super badass. Whether you go for neon red, butterbeer yellow, or a metallic, you're guaranteed to seriously shine.