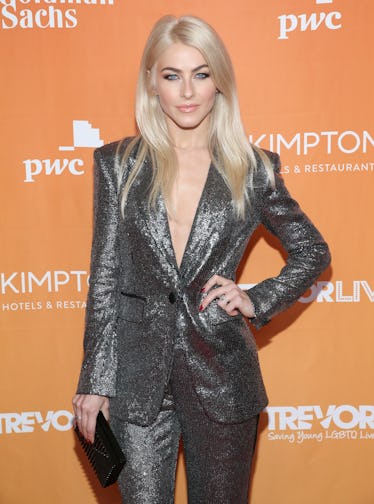 Julianne Hough Just Dyed Her Hair A Bold New Color & She Looks Unrecognizable
Phillip Faraone/Getty Images Entertainment/Getty Images
I experimented with a lot of different hair colors over the past handful of years before finally settling on my current buttery blonde shade. Cotton candy pink, platinum, hot pink ombre, silvery purple, brunette — I tried them all. And now, photos of Julianne Hough's red hair have me itching to reach for the bottle yet again, despite my promise to myself to enjoy my natural hue and give my hair a much needed break from bleach. Am I a serial dyer? Maybe. But when you see Hough's new red, you might be converted into one, too.
When I think of Hough, her platinum hair always seems to appear in my mind before her facial features materialize. She's rocked generally the same color since I can remember, so that blonde bombshell version of her is what's crystallized in my head. While she's played with a variety of different chops, from long and layered to short and choppy, over the years, her color has largely remained the same. You know how if an actor plays a huge recurring role you associate them with that specific character for ever and ever? (Daniel Radcliffe, for example, is Harry Potter, in my mind.) That's how I feel about Hough and blonde hair. Or felt, rather, because upon seeing her as a redhead in a post on her Instagram page, I felt like she's never looked better — like red is the color she's meant to have.
Evidently, Hough feels the same based on her photo caption:
"🔥 I have never felt more like ME than I do right now!! I have always felt like a red head my whole life, even to the point that I've thought that my future daughter would 100% be a red head! I've seriously talked about doing this for 6 years, ask anyone who knows me...and now that I'm on this new journey, exploring and finding out who I truly am, I said screw it! I feel more feminine and alive and I love it! 🙌🏼"
It is wild how much a new color can resonate with you and make you feel like the truest version of yourself. When I had my silvery purple hair, for example, I felt ethereally edgy and fearlessly bold, and it totally changed the way I carried myself. Unfortunately, it faded into a disastrously splotchy gray after a week, so my comic book villain alter ego was short lived. My love for outrageous colors still lives on, and I dabble with adding them to my hair via temporary dyes every now and then. My favorite technique is adding some of Manic Panic's High Voltage color in Cotton Candy pink to my conditioner to get a subtly rosy hue every now and again. It's perfect for music festival season.
Hough's new color, which is a rich auburn hue, is a hue that walks the line between the ordinary and the gutsy. At least, within my friend group, a natural red is the least opted for color in terms of new dye jobs. I think that if you can rock a red and have it look genuinely amazing on you it's the coolest hair color in the world — who wouldn't want to look like a cherry bomb on the daily? After posting the first photo of her new shade, Hough followed up with another mere hours later in which her eyebrows had been dyed to match. It might not look like a different at first glance, but I will say her blue eyes pop against the red brow much more.
The opportunities that beauty allow us in terms of how we are presented and perceived are endless and beautiful. So experiment with your look and figure out what suits you — and don't wait six years to do it!