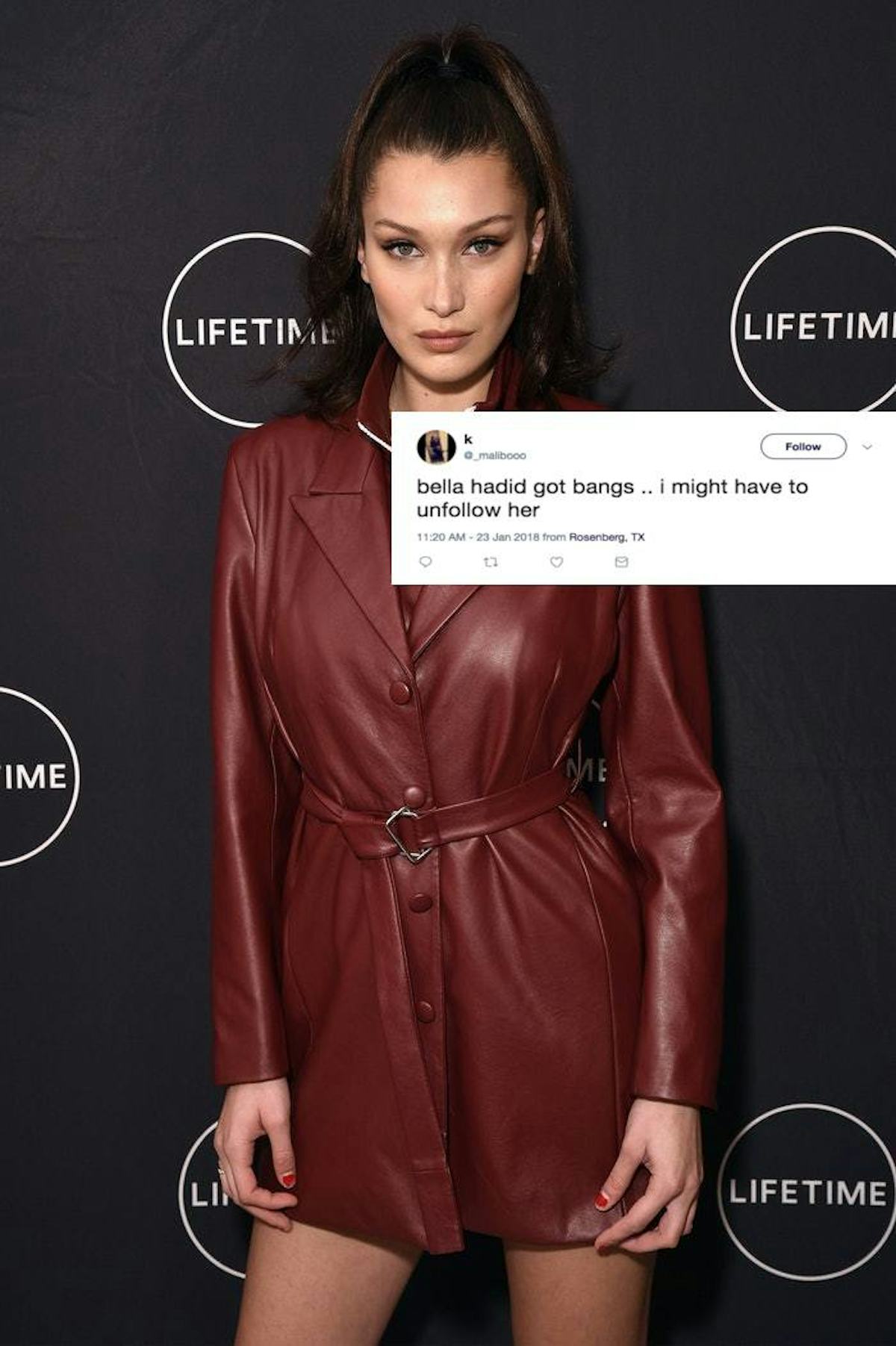 Bella Hadid Just Debuted Micro-Bangs & Twitter Doesn't Understand The Retro Style
Bryan Bedder/Getty Images Entertainment/Getty Images
Bangs have a special place in the hairstyle history books, they can beautifully transform someone's look, or they can go very wrong. Celebrities are not immune to the potential pitfalls of bangs, but someone happened to get it right this time. As soon as I saw photos of Bella Hadid's bangs, everything I thought I felt about fringe changed.
I used to be very anti-micro-bangs on anyone other than Bettie Page. The super-short, closely-cropped style is also nicknamed Bettie Page bangs, so you can see from where that opinion stems. They tend to look awkward, I don't even want to think about how you would grow out bangs like that, and as someone without perfectly straight hair, I anticipate I'd have to style them every day so that they lay properly. It sounds like a lot of work for a hairstyle that I don't even like that much. Or so I thought.
Hadid attended the annual Dior post-couture show ball in Paris a few nights ago, and at this year's masquerade-themed event Hadid's hairstyle was the talk of the town. The model pulled her hair back into the sleekest of ponytails and, in place of a mask, wore micro-bangs. So much oui.
Itty Bitty Baby Bangs
Hadid paired her baby-bangs with a sheer Dior gown, black Dior patent leather pumps, and a silver Dior handbag — she was at the Dior ball, don't forget. The dress is embroidered with sequins in a semi-celestial pattern, reminiscent of Natalia Dyer's dress at the 2018 SAG Awards. Hadid's dress, though, was sheer to reveal her black strapless bra and high-waisted underwear. And yet I'm still distracted by her hair.
Actress Emma Roberts also recently showed off some short, blunt bangs, but I much prefer Hadid's bangs styled with her updo.
Inside the ball, held at Paris' Rodin Museum, Hadid showed off her epic glitter cat eye. I've seen cat eyes and I've seen glittery eyeshadow looks, but I don't think I've ever seen the two combined into such a shimmery piece of heaven. Between the sparkly cat eye, the sheer dress, and lest I forget the micro-bangs, Hadid is giving off some futuristic Bettie Page vibes here, and I'm actually into it.
I can't fully confirm that Hadid's bangs aren't real, but I would bet a lot of money that they're the work of a clip-on hair piece. Fake bangs can be tricky to wear, but they're definitely easier than having to grow out real bangs when you decide you don't want them anymore.
Hadid changes her hair frequently, sometimes for work and other times for play — such is the life of a model, I suppose. In September 2017, she walked the Fendi Spring 2018 show with a short, blue hairpiece (Kendall Jenner did too).
At the Fall 2017 Couture show for Maison Margiela, held in July of 2017 because fashion makes so much sense, Hadid's hair was painted gold. If you think that's weird, other models wore what looked like shaving cream in their hair, so I'd say Hadid got off easy.
Off-duty, Hadid wore longer bangs to the 2017 Council of Fashion Designers of America (CFDA) Fashion Awards. This look was likely a wig or another hairpiece because the bangs were short-lived.
Hadid wore a slicked back ponytail and a black cat eye look to a Cannes Film Festival red carpet event in May 2017. Perhaps she got inspiration for her Dior ball look from this past look!
The year before, in 2016, Hadid rocked side-swept bangs to Cannes. No cat eye this time, but the model clearly likes to play around with her hair.
Twitter had a lot to say about Hadid's blunt bangs.
Well this is just rude.
Many Twitter users didn't take to the new style lightly.
To each their own.
Some people were confused by the style.
Others liked the switch up!
Muy chic.
This poor woman has bangs that make her look a squirrel attack victim.
If you happen to be inspired by Hadid's micro-bangs, it's a trend best tried out at the salon. Chop 'em off and then practice your Bettie Page impression.