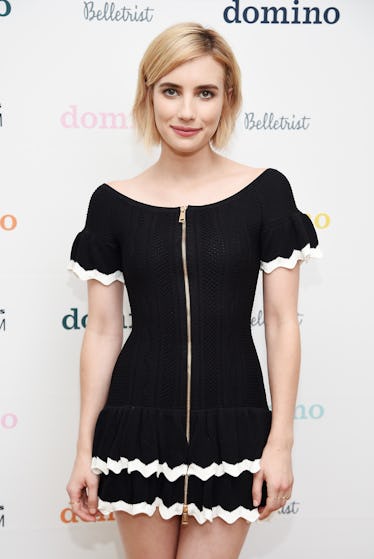 Emma Roberts Debuted New Bangs At The Critics' Choice Awards & She Looks So, So Different
Dimitrios Kambouris/Getty Images Entertainment/Getty Images
The Critics' Choice Awards came and went on Jan. 11 and featured a ton of celebrities, a few funny segments, and Nicole Kidman winning best actress in a miniseries again (just kidding, I know it's well deserved). For a low-key award show, the Critics' Choice was dripping in A-listers. One starlet who we haven't seen in awhile, Emma Roberts, walked the carpet in a simple, strapless white gown with her boyfriend, Evan Peters. While it was great to see her looking so happy and a little red carpet PDA, the conversation on Twitter centered around one particular detail of Roberts' look — her hair. Emma Roberts' bangs at the Critics' Choice Awards made her look so, so different.
Don't get me wrong, I usually live for celebs changing their hair and giving a little style inspo. However, I didn't even recognize Roberts when I first spotted her. The American Horror Story actress opted for a very blunt bang that sat right in the center of her forehead. I think fans have been finding the hair transformation so shocking because it's much edgier than Roberts normally styles herself.
However, she's trying something new so don't hate, appreciate. The bangs do kind of highlight her freaking amazing eyebrows. Emma, DM your brow person's number.
If her goal was to be the talk of the Critics' Choice — mission accomplished.
Bangs are a risky move for anyone to try and pull off. I'd be a liar if I didn't say I attempted bangs a few times in my life. Just to be clear, they never worked and I hope I'm smart enough to never attempt again. Time will tell — bangs just look so cute on some people (that's what gives me false hope). As for Roberts' bangs, Twitter is torn.
It's hard to find a hairstyle that Emma Roberts can't pull off.
People on Twitter definitely put the "brutal" in brutally honest.
Many people seem mostly confused about the bangs.
Bangs or not, she's Emma Roberts and can wear her hair however she damn well pleases. Although she may never answer our questions about the bangs, she definitely confirmed her relationship status with her on-again-off-again boyfriend, Evan Peters.
The two have kept us guessing since they met on the set of the indie comedy Adult World back in 2012. Their on-screen romance ended up leaking into real life. One month before their film premiered at the Tribeca Film Festival in April of 2013, the couple announced they were engaged. We didn't know it then, but this was just the beginning of a very dramatic relationship.
A few months after the happy engagement news hit, Roberts was reportedly arrested after a domestic dispute between her and Peters in July of 2013. Residents of the hotel in Montreal that Roberts and Peters were staying at allegedly overheard a loud dispute between the two and called the police. When help arrived, Peters reportedly had a bloody nose and a bite mark, but Roberts didn't appear to have any markings. Roberts ended up getting arrested on the spot.
Peters did not press charges, and the couple revealed after the incident that they were going to move forward and work on things. Can we all just take a moment to notice that Emma Roberts got arrested while wearing a sweater vest? WHAT AN ICON.
Two years later, in July of 2015, Peters and Roberts decided to call it quits. Obviously, the two live by the rule, "keep your friends close and your exes closer," because they were spotted kissing a few months later in September of 2015. Happy ending right? Not quite.
The couple broke up again in May of 2016 and Peters started deleting photo evidence of the relationship on social media — which sends the message that he was done for good. Roberts even started dating a British guy named Christopher Hines. Fans thought all hope was lost on this dysfunctional yet weirdly tender relationship.
Don't get too sad, it was reported that the two have been back together since September of 2016. There were rumors that they even called the engagement back on. However, the only thing Roberts has said about her relationship status recently is that she's not single, according to Anna Faris' Unqualified podcast in September of 2017.
It's good to see Roberts happy with someone she loves AND trying new hair styles. After the bangs, I have literally no idea what's next.
Check out the entire Gen Why series and other videos on Facebook and the Bustle app across Apple TV, Roku, and Amazon Fire TV.