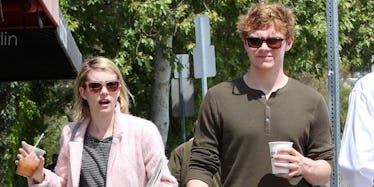 These Pics Of Emma Roberts Are Fueling Rumors She's Engaged To Evan Peters
REX/Shutterstock
Don't even look at me like that. This was a long time coming and you know it.
After all, Emma Roberts and her "American Horror Story" co-star, who met filming "Adult World" back in 2012, announced their first engagement in 2013.
That first one didn't stick, though, perhaps due, at least in part, to the alleged domestic dispute during which Emma temporarily marred Evan's cast-able face with a bloody nose and threw a couple bite marks into the mix for variety's sake.
Dysfunctional as their relationship may have been in the past, there are still shippers who were likely thrilled when Em and Ev were seen sucking maj face back in November.
Now, she's riding around Beverly Hills with a fresh rock on her long-term commitment finger, and no one is sure whether it's OK to get excited just yet.
Emma's social media doesn't exactly clear things up for nosey fans and media outlets. There are no signs of Evan, except for POSSIBLY MAYBE PERHAPS a video of his hand interrupting her SnapStory six weeks ago.
Evan, on the other hand, shared a photo on his Insta two weeks ago in which Emma's lil head can be seen popping up in front of the Rockefeller Center Christmas tree.
Four weeks before that post (so, yes, the same time as Emma shared her Snapchat clip with the caption "this guy"), Ev posted a picture of his on-again, off-again love, captioned, "This girl."
Sure, reading into Instagram posts for monumental life events is not the most reliable system, but, like...
Come on...
Admittedly, when it comes to an actual wedding in the near future...
That, of course, is based on history alone, and people change. They evolve. They grow. They stop punching each other and start creating a safe and caring environment wherein their partner can flourish.
What? It happens.
Citations: EMMA ROBERTS GETS A RING ON IT ... Take Two? (TMZ)