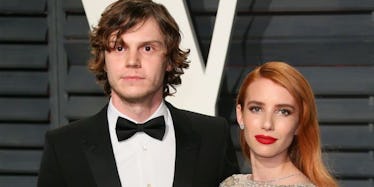 Everything We Know About 'AHS' Couple Emma Roberts & Evan Peters' Relationship Status
Getty
Just as American Horror Story has taken its fans on a wild and unpredictable ride for the past few years, so has the IRL relationship between the franchise's stars Evan Peters and Emma Roberts. The two have had an on-again, off-again roller coaster romance off the set while continuing to co-star on American Horror Story for several seasons. It's been so difficult for fans to follow, that you may even be wondering whether the two are dating or not right now. So, are Evan Peters and Emma Roberts back together? Allow me to break down the confusing romance for you.
It all started back in 2012, when Emma Roberts and Evan Peters first began working together on the indie comedy Adult World. Roberts and Peters played love interests in that small film, and clearly the roles translated to real life. A month before the movie premiered at the Tribeca Film Festival in April 2013, Peters confirmed that he and Roberts were engaged. However, quickly after the engagement, they hit a major rough patch. While staying at a hotel in Montreal together in July 2013, other residents overheard a loud dispute coming from their room and called the police. Officers found Peters covered in wounds, but Roberts did not appear to have visible injuries, so they arrested her. Peters didn't press charges and the couple reunited soon after the incident, releasing a joint statement that they would work together to move past it.
It was also around this time that Emma Roberts first joined the American Horror Story family, which Peters had been in from the very first season in 2011. Roberts' first run on the show saw her playing the b*tchy, self-absorbed witch Madison Montgomery, who uses her powers to gain the affections of Evan Peters' character Kyle, on Season 3 Coven. AHS: Coven premiered in October 2013, so that hotel room domestic violence drama likely occurred while Peters and Roberts were filming the show.
Despite the drama, their engagement lasted about two years, until the couple first called it quits in July 2015. This was right after the couple co-starred yet again on American Horror Story run together, Season 4's Freak Show. But the split didn't last long — after photos of the presumed exes walking hand-in-hand around Los Angeles surfaced in September 2015, sources began confirming the couple was back together just a few months after their public breakup.
But Emma Roberts and Evan Peters weren't done keeping us all guessing yet. Soon after reconciling, the couple broke up yet again in May 2016. This time it looked like they were done for good — Peters was deleting every trace of his ex from his social media accounts, and Roberts seemed to be moving on both professionally and personally. Roberts made the lateral move from her AHS co-starring gig with Peters to Ryan Murphy's other horror anthology series Scream Queens, and she also started dating a new man — British businessman Christopher Hines.
But although it looked like their up-and-down romance had finally reached its end, Evan Peters and Emma Roberts once again reconciled in September 2016, after Roberts ended her fling with Hines. Just three months after their reunion, the couple got engaged for the second time, and are presumably still engaged to one another now. The most recent bit of news about the two comes from September 2017, when Emma Roberts confirmed she isn't single on an episode of the Anna Faris Is Unqualified podcast. It sounds like Roberts and Peters are still going strong.
And the two are back to working together as well. After skipping the previous two seasons of American Horror Story, Roberts is confirmed to return for a recurring role in the currently airing season AHS: Cult, which stars Evan Peters. Let's hope Roberts and Peters can make it work this time.