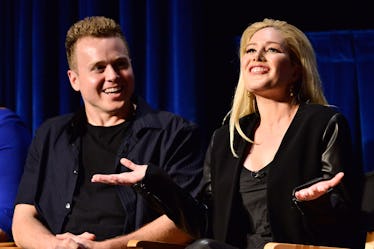 Spencer Pratt & Heidi Montag Share First Pic Of Baby Gunner & He's So, So Cute
Jerod Harris/Getty Images Entertainment/Getty Images
He's here, everyone! On Oct. 11, we were blessed with the first photo of Spencer Pratt and Heidi Montag's son, baby Gunner, and he looks like the sweetest little ball of joy. Montag delivered Gunner on Sunday, Oct. 1, and weirdly the couple has been keeping a lowish profile ever since. He was born around 3 p.m., clocking in at six pounds, 12 ounces, and 19 inches long. Obviously, he has blond hair and blue eyes, because that's how genetics work.
Montag had been keeping her social media followers pretty up-to-date during her pregnancy on Snapchat, while her husband Spency continued to feed hummingbirds on his Instagram. (More on that later.) Pratt told Us Weekly in a previous interview he knew Montag had been planning to be a mother her whole life. At the time, Montag echoed this sentiment saying,
I have never been more excited. The reality is sinking in that we are going to have a child! I've read every pregnancy book, and now I realize I don't know anything.
Girl. You're going to be great.
Us Weekly is the first magazine to reveal the adorable family photo, displaying a plump and peaceful looking Gunner sitting between his two glowing parents.
Looking good, Gunner.
The baby's calm demeanor could be thanks to the reported $27,000 crystals he was born into.
Oh, what's that? You're just now learning Heidi Montag gave birth surrounded by a truly outrageous display of crystals? Well, dear reader, walk with us.
For those of you who follow Montag and Pratt, you might be familiar with their holistic and eccentric ways. Some even believe Gunner is named after his parent's crystal obsession, as his full name is Gunner Stone. (Get it? "Stone" as in "rock." "Rock" as in "crystal.")
On Oct. 1, Spencer tweeted at a crystal store in West Hollywood called Crystalarium, thanking them for their big ol' gift. He said, "Shout out @crystalarium1 for dropping off $27,000 in crystals for the birth."
I know. Classy.
The store seemed to confirm Pratt's tweet, responding with, "Of course!! We were honored to be a part of the birth! And we're super excited for your awesome family!!"
Hollywood, man.
Still, the most important thing to both Montag and Pratt is that their child is healthy. Montag said she initially had anxiety around the gender of the baby, as she worried Pratt wanted a boy more than a girl.
She told Us Weekly in May,
It was in my heart to have a boy. I thought Spencer really used to want a boy, and then a few months ago we had a conversation where he said, 'Let's just make sure it's healthy. Boy or girl, I don't care.'
Well, the two can rest easy, because Gunner looks damn perfect.
On the magazine cover, Gunner is referred to as a "miracle baby," and it looks like Montag might have had an eventful delivery. The cover calls her delivery "dramatic."
Oof. I don't know if I'm up for that read, but I am here for the 'grams.
Just yesterday, Montag shared this epic and fascinating Lion King-themed video she and Pratt made in her final days of pregnancy.
You could weirdly watch that on repeat, right? There's so much to take in.
But, the number one thing I'm looking out for is a father-son hummingbird Instagram, as Pratt's largest hobby up until baby Gunner has been feeding his precious little birds.
It's specific as hell, but I'm into it.
Congratulations Speidi, and welcome to this wild ride, Gunner!
(If you guys want to follow everything Gunner does, you best believe he already has his own Instagram. Follow him at @gunnerpratt.)
Check out the entire Gen Why series and other videos on Facebook and the Bustle app across Apple TV, Roku, and Amazon Fire TV.