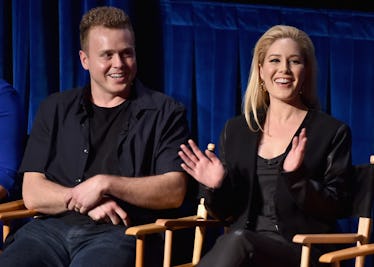 Heidi & Spencer Pratt's Baby Was Born Surrounded By Crystals & Now His Name Means Much More
Alberto E. Rodriguez/Getty Images Entertainment/Getty Images
Heidi Montag and Spencer Pratt are officially parents!! The Hills couple welcomed their first child together — a baby boy named Gunner Stone — on Sunday, Oct. 1, around 3 p.m., according to Us Weekly. The couple made the announcement on Twitter. And get this, guys: According to his dad, Gunner Stone was born among $27,000 worth of crystals, and the meaning behind his name might also be related to crystals. Spencer Pratt and his healing crystals, man. The guy loves 'em. So what does Gunner Stone mean? Let's break down what we know.
According to BabyCenter.com, Gunner means "Scandinavian warrior boy," which seems on-point for Speidi, and Stone means, well, stone. But wait! Stone could also be a twist on the word crystal, since crystals are essentially stones anyway. So it looks like Pratt actually found a way to honor his beloved crystals in his son's name, and the baby was born among a boatload of them. Honestly, that's pretty majestic. Well done, Speidi. Setting your son up for that #greatcontent down the line.
Lets talk about these $27,000 worth of crystals. Pratt tweeted on Sunday, Oct. 1 that Crystalarium — a store in West Hollywood that sells crystals — sent Montag and Pratt a generous gift consisting of thousands of dollars worth of crystals sent to the hospital where Montag was giving birth. Pratt tweeted, "Shout out @crystalarium1 for dropping off $27,000 in crystals for the birth."
Crystalarium responded saying, "Of course!! We were honored to be a part of the birth! And we're super excited for your awesome family!!" If one thing's for sure, it's that Baby Gunner is going to have an awesome childhood.
Montag and Pratt already have not one, not two, not three, but four tiny dogs at home waiting to meet the baby, Pratt has already dished about how excited he is to teach his son how to feed hummingbirds — a hobby he religiously documents on his Snapchat (if you haven't seen that yet, run, don't walk to Pratt's Snapchat) — and Gunner has two parents who are over the moon over his arrival. Safe to say Gunner Stone, in addition to already having a Twitter handle locked in, is going to have a lit life.
Montag was very open about her pregnancy on Snapchat ever since they announced their pregnancy back in April 2017. She heavily documented her pregnancy updates on Snapchat and Instagram out of pure excitement and joy to be having her first child. She celebrated her first Mother's Day this past May and commemorated it in a moving Instagram post that said,
#happymothersday ! So excited to celebrate my first Mother's Day!🤰🏼 #blessed 🙏🏼 Thank you to all you beautiful amazing moms for your endless love and dedication! 💖 missing my mommy!
In May, Montag and Pratt revealed they were expecting a baby boy. Montag told Us Weekly they always wanted their first child to be a boy. Montag said,
It was in my heart to have a boy. I thought Spencer really used to want a boy, and then a few months ago we had a conversation where he said, 'Let's just make sure it's healthy. Boy or girl, I don't care.
In the same interview, Pratt said Montag had been dreaming of being a mother her entire life. He said,
Heidi has wanted to be a mom since the day I met her. She has planned for and thought about this.
When it comes to Pratt and his hummingbirds, just about every morning, Pratt's Snapchat stories feature him wearing his iconic hummingbird feeding hat. And yes, he feeds hummingbirds with it.
It's majestic.
And now he has Snapchat Spectacles that he attached hummer feeders to because good content requires good cameras.
And also good tweets.
Gunner Stone was born on Sunday, Oct. 1, at 3:06 p.m. weighing 6 pounds 12 ounces, and measured 19 inches long. Congrats, Speidi!!