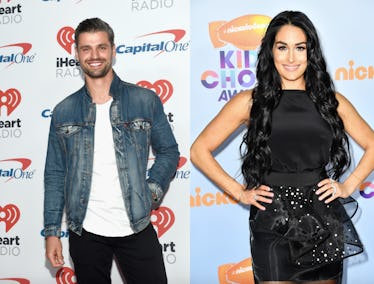 Peter Kraus Blushed Hard When Asked About His Date With Nikki Bella & It's Adorable
Getty + Getty
Imagine being able to know exactly how the person you just went on a first date with felt about you. Oh, and imagine the answer was that the person was super into you. Oh, and also imagine the person is hot. And super famous. And so are you. Yeah, OK, I know this hypothetical is getting to be a little too unbelievable but, for one pair of reality stars, this is actually their truth. You see, Peter Kraus' quote about his date with Nikki Bella tells the world exactly how he felt about her after that one fateful night.
For those of you who missed the memo, in a preview for the fourth season of her reality show, Total Bellas, we see that Nikki is finally trying to move on from her ex John Cena by letting her twin sister, Brie Bella, set her up with Peter. Any of you Bachelorette fans out there will recognize Peter as a contestant on Rachel Lindsay's season of the show. He lost despite being a fan favorite and, much to everyone's dismay, he wasn't brought on to be The Bachelor in the following season. Which, honestly, is a huge bummer because look at him.
In the sneak peak, a nervous Nikki, 34, admits that the whole being-set-up-by-her-sister-with-America's-sweetheart thing is making her pretty pretty nervous. "I feel like I'm 15," she confesses to her sister before having her call Peter and set up the date. "I don't know if I'm ready for this," we hear her say in another clip.
Despite her negative energy leading up to the date, the scenes of Nikki and Petter clinking glasses of red wine on a gondola lead us to believe the date might have exceeded her expectations.
And now, Peter is opening up about his feelings for Nikki following the date. "She's beautiful," he admitted exclusively to Us Weekly last month after a Facebook Live user pointed out that Nikki follows him on Instagram. "I'm turning red."
Ugh, so cute. You guys, he likes her so much that it's actually making him blush.
Back in October, Peter opened up to Us about his dating life and admitted that being a gorgeous reality star doesn't always make romance easier. In fact, it comes with it's challenges. "Going on dates … If anything, this sounds terrible, too easy so finding someone who's wanting to date me for the right reason is very different," Peter explained to Us in October. "Versus like they saw me on a show where it depicted me in a certain way that I'll even say, I'm not perfectly clean cut. I have my own flaws, they think I'm a certain way that's putting me in a hole that maybe isn't fair… So I rather meet someone just organically."
That being said, Peter did also tell Us in the same interview that he has "been searching." And, hey, who knows? I know it's technically only been one real date that we know of, but maybe Nikki is that special someone he's been searching for.