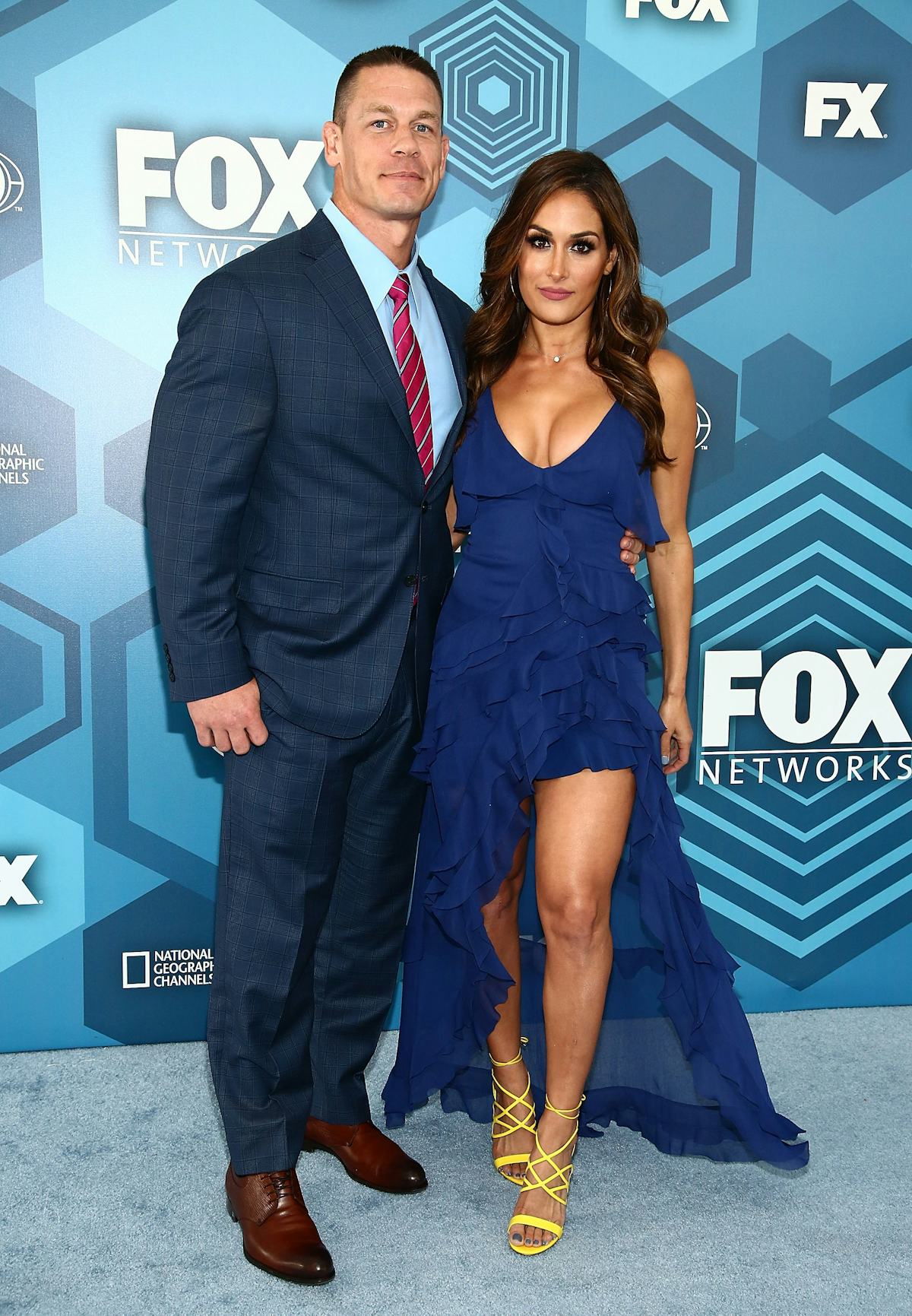 Nikki Bella Wants People to Stop Talking About Her Relationship With John Cena
Astrid Stawiarz/Getty Images Entertainment/Getty Images
Sigh. You know the famous Rolling Stones lyrics, "You can't always get what you want?" Well, it looks like those words literally couldn't ring any truer for me after hearing Total Bellas star Nikki Bella open up in a recent interview about her relationship with WWE star John Cena, which is now totally donezo. Sadly, it looks like Nikki Bella's comments about her relationship with John Cena post-breakup mean that things are not just only officially over between them, but that she and Cena don't even want to have their names associated with each other in conversation anymore. If you're hearing any weird sounds right now, those are probably my heaving sobs of pain and sorrow, because I really loved these two together. Why is the world so very, very cruel?
In Bella's interview with Cosmopolitan, the professional wrestler and reality star explained what it was like to go through such a public breakup, and how difficult it was to hear some fans speculating that their relationship troubles were just a ploy for more ratings.
"When everyone was saying what I was going through was fake for ratings and all that and when you're really going through it, it's like, you're just, in my heartache you're literally just knifing it and just churning it," Bella told the publication. "We're both are at the point that we just don't want to be talked about at all together anymore," she said, adding, "We don't want our breakup to define us or interfere with our work. And that was happening for a while."
First of all, I totally get that the drama that stemmed from their relationship ending, then reconciling, then ending once more affected their careers. I can't even imagine dealing with stress of that magnitude all while working a high pressure, demanding job. But even though all of it is very understandable, it still makes me SO UNBELIEVABLE WEEPY to think that the two don't even want to be associated with one another at this point.
Bella continued, talking about her fears of going through a similar situation if she were to have another relationship in the public eye. She said,
Going through all that, I don't ever want to do it again. It scares me to ever have another public relationship ... I don't want my relationship to define who I am, as a woman and to take away all the hard work that I've ever done in my career.
Bella also added, "I think for a man, it's different. I feel like, if anything, the woman gets blamed for what happens, for taking away from what they do. But I get all my work taken away because of that. I don't know, I feel like sometimes there's a double standard and I really have felt that. And it's been really, really hard."
This is some rough stuff, you guys. The couple got engaged in April 2017 after five years of dating, then sadly called off their wedding one year later, and have had a handful of break-ups and make-ups since they canceled their nuptials. It's been a seemingly rough road for these two, and unfortunately, it looks as though both are just simply trying to move on separately.
No matter what, let's all hope that Nikki Bella and John Cena both find their path to happiness.