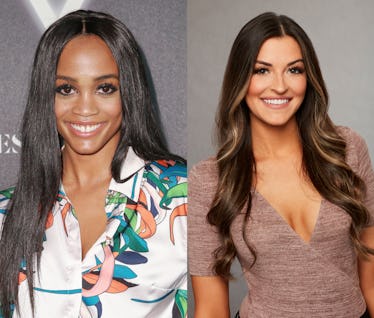 Rachel Lindsay Called Out Tia For What Went Down On 'The Bachelorette' & TBH, She's Right
Rich Fury/Getty Images Entertainment/Getty Images & Netflix
Even if your stint as the Bachelorette is over, you can't exactly put the world of Bachelor Nation behind you right away. Last year's Bachelorette Rachel Lindsay is a prime example, blogging about each episode of Becca Kufrin's ongoing season despite the fact that Rachel found her own happy ending with fiancé Bryan Abasolo. While former leading ladies usually stay pretty neutral about what happens in new Bachelorette seasons, attorney Rachel Lindsay called out Tia for what went down on The Bachelorette this week, and she's honestly completely right about the situation. Tia, you've been lawyered!
In her weekly Bachelorette recap for Us Weekly, Rachel offered her thoughts on the four final men's hometown dates, but like the majority of Bachelor Nation, her greatest focus was on Bachelor Season 22 star Tia Booth confessing that she still had feelings for contestant Colton Underwood. Tia is the official Bachelorette that never was, and with that territory comes a pseudo love story that nobody really wanted. Although Becca didn't exactly reveal how or if Tia's confession influenced her decision to eliminate Colton, certain fans didn't take to the news lightly, sending Tia hateful messages and prompting Becca to defend Tia in her own social media post.
Being the class act that she is, Rachel responded truthfully to Tia's bombshell, but penned a reaction without resorting to completely inappropriate threats and disses like some haters out there did. If there's anything that the Bachelor franchise has taught me, it's that its ladies are usually quick to come to each other's aid or at least understand the other's position. Rachel proved that while she doesn't agree with Tia's actions, she's not going to judge her nastily for them.
In Us Weekly, Rachel wrote:
When you put yourself on reality television you have to be ready to accept the good and the bad opinions that will be showered upon you. It is the nature of this business. But as much as I want to discuss Tia, I have to first acknowledge her 'friends.' Now you may be asking yourselves why I am using quotes when I refer to Becca's 'friends.' Well, that is because real friends don't let their friends make a fool of themselves on national television. If I had been on that couch I would have said, 'Tia, you are going the wrong way. Don't do this to yourself for millions to see. Have a seat or two!'
Now, despite what Becca's hangouts with her Bachelor ladies this season have suggested, recent off-screen drama related to Tia and Colton has proven that Bekah Martinez and Tia definitely aren't best buddies. While we have nothing to suggest that Tia's relationships with the other women present are weak, Rachel points out that true friends wouldn't let Tia make that kind of statement on TV, even if producers poked at her to spill the dirt.
Rachel proceeded to explain why Tia's timing was wrong and why the scandal has bothered the Season 13 Bachelorette. On a side note, haven't you noticed that we never fully appreciate a great Bachelorette until she's gone?
Tia's 'friends,' aka Caroline continued to perpetuate the conversation by providing the audience with more details of Tia's feelings for Colton. I do believe Tia really does like Colton, but there is a time [and] a place for everything and that place for you Tia was weeks ago when Becca confronted you about it the first time. The reason this moment bothered me so much was that it took away, once again, from Becca. This is Becca's season and subpar story lines and people are constantly overshadowing it. Tia, there is a place for you and it is called Paradise. You should have just let their relationship play out and if it is meant to be then Colton will see you there.
Girl, preach!
It definitely seems that we've put up with the Tia drama and silly men's antics for way longer than we should have on this Bachelorette season, and Rachel has a valid point about all of these distractions taking the focus away from Becca. We've also known since Arie Luyendyk's Bachelor season that if being Bachelorette wasn't in Tia's future, Paradise would inevitably call her name. I get why Tia felt she had to take action on the Colton matter, but some things are better left said off camera, and Rachel reminded us of that.
The Bachelorette returns on Monday, July 23, at 8 p.m. ET on ABC.