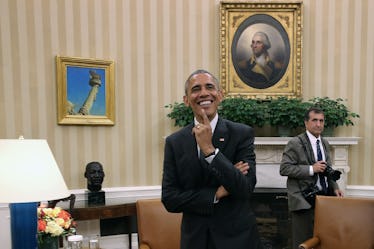 Trump Won't Want To See Obama's Photographer's Top Instagram Posts Of 2017
Chip Somodevilla/Getty Images News/Getty Images
The end of 2017 is upon us, and with it comes the inevitable monsoon of users posting their best nine Instagram posts of the year. But there's one in particular that should be high up on your list of ones to check out this month. Pete Souza's Instagram Best Nine of 2017 are just another giant dig at President Donald Trump.
Anyone who's followed former President Barack Obama's White House photographer knows Souza's in the habit of throwing the current prez shade on social media. Often, all he has to do is share a photo of Obama being generally awesome and lovable and presidential, and it gets so much love. That's all it takes to make a statement about how popular Obama was as president.
But Souza has also been known to troll Trump more directly, sharing well-timed photos of Obama doing something that Trump is currently getting excoriated over (see Exhibits A: the Mika Brzezinski post, and B: the travel ban). For anyone who got a kick out of those, this photo collage doesn't disappoint. All nine of Souza's top posts are photos of Obama being Obama, and it's one giant compilation of passive-aggressive hilarity.
Oct. 30: Obama and Ella are best pals.
It's no secret this dude is great with children. Maybe it's just me, but I find it especially comforting when the man with the country's nuclear codes exhibits a sense of paternal care and empathy. But even just on the surface level, it's not hard to believe that 170.8k people liked this photo of Obama holding toddler Ella Rhodes (per Souza's post) in an elephant costume.
Sept. 7: That time Obama and Biden were being adorable, again.
This classic photo of Obama with his former right-hand man, Vice President Joe Biden, was taken at an even in New Hampshire, per Souza, making for an adorable and much-loved TBT post garnering 187.6k likes.
Aug. 12: Obama's tweet that broke the internet.
In the wake of the Charlottesville attack, Obama shared what would become a famous tweet captioned by a quote from Nelson Mandela: "No one is born hating another person because of the color of his skin or his background or his religion." Still garnering likes and retweets months later, it's already taken the title as the most liked tweet ever. Souza's IG post didn't do too bad, either, with 192k likes.
Nov. 15: Not impressed.
Anyone who's attempted to strike the balance between being adorable and being silly knows it's not easy to pull this look off. (Many a duck face and tongue-out selfie have long burdened the internet with their awkwardness.) But Obama and Olympic gymnast McKayla Maroney seem to have mastered it, with over 192k likes (and added points for sass).
Nov. 23: Some Thanksgiving Day nostalgia à la Souza.
This post of a 2015 photo of the former first family, with almost 194k likes, gave everyone the feels.
Oct. 27: That time Michelle and Barack met the (tiny) pope.
There's clearly a with Obama's affection for children wearing enviable costumes. (Side note: Where can I get my hands on these?) "With Halloween in a few days, remembering that time a little Popemobile stopped by for trick or treating," wrote Souza in his post, which brought in 198.1k likes.
Nov. 26: Another time Obama held a baby and everyone wept.
Perhaps the simplest and most subtle caption of them all was this one by Souza: "Better days." He doesn't explicitly say to what he's comparing this particular moment, where Obama is holding an infant, but we think we know what he's referring to. With more than 218k likes, it's safe to assume most people got the hint.
May 32: Obama and Michelle holding hands & making us cry again.
This moving photo of one of the most famous couples in the world holding hands at a speech in Alabama raked in almost 236k likes. Many users pointed out the loving dynamic between Michelle and Barack, which they saw as a contrast to the hand-swat fiasco between Donald and Melania on their trip abroad just days earlier.
Nov. 25: TIME (and time again).
No explanation needed for this one. With over 250k likes, it took the cake for Souza's Instagram posts of 2017.
Maybe it's the disproportionate number of adorable children, but if Souza's best nine Instagram photos of the year don't make you feel all kinds of warm fuzzies, there may be something wrong with you.