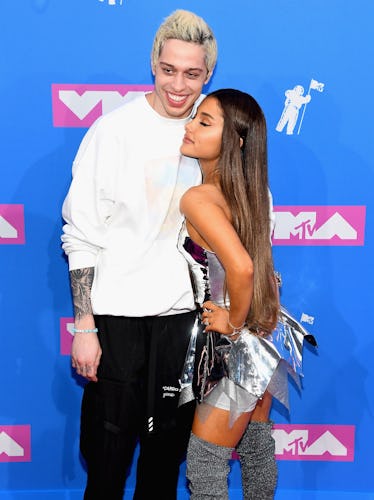 You May Have Already Seen Pete Davidson's Reaction To Ariana Grande's "Thank U, Next" Lyrics
Nicholas Hunt/Getty Images Entertainment/Getty Images
Ariana Grande is everything to me. I need y'all to know that. I honestly didn't think I could stan her more after Sweetener, and then she dropped "thank u, next" not even one hour before Pete Davidson made his first appearance on Saturday Night Live since their breakup. While Grande revealed she let two of her exes — Big Sean and Ricky Alvarez — listen to the track before she dropped it, it doesn't appear that she did the same for Davidson. So Pete Davidson's reaction to Ariana Grande's "thank u, next" lyrics was happening at the same time as the rest of the world — the only twist being he had to go to work on live TV minutes later. Did I mention I love Ariana Grande?
In the song, Grande lists four of her exes by name when she sings,
Thought I'd end up with Sean / but he wasn't a match / Wrote some songs about Ricky / now I listen and laugh / Even almost got married / and for Pete, I'm so thankful / Wish I could say 'thank you' to Malcolm / 'cause he was an angel
Big Sean hasn't publicly responded to his mention on the track, but Ricky Alvarez (Grande's former dancer whom she dated and apparently inspired some of the tracks off of Dangerous Woman) posted a hilarious reaction to it. On his Instagram story on Nov. 5, the dancer posted a video of him listening to the bop, then deadpanning to the camera when Grande says she listens and laughs at her songs about him.
Pete Davidson's reaction to the song, on the other hand, was less hilarious and more awkward/nice/done on live TV (again). During his appearance on the Weekend Update portion of SNL on Nov. 3, Davidson told viewers that his breakup with Grande is not up for discussion.
"The last thing I will say is I know some of you are curious about the breakup, but the truth is, it's nobody's business," he said. "And sometimes things just don't work out, and that's OK. She's a wonderful, strong person, and I genuinely wish her all the happiness in the world."
Although Davidson never mentioned "thank u, next" in his shoutout, according to TMZ, Davidson quickly wrote up those lines after hearing the song just before SNL went live, had the message approved, and then said his peace at the end of his bit. Elite Daily reached out to Davidson's team for confirmation on the report, but did not hear back by the time of publication.
Davidson's comments about Grande start around the 2:50 mark. He doesn't mention "thank u, next."
This will hopefully be the last time viewers hear Davidson talk about his relationship with Grande on SNL. The former couple's engagement was used as a talking point several times throughout the season premiere of SNL (they were still together at the time; Grande was reportedly backstage that night and presumably approved at the time). When they broke up, Davidson and the show joked about Davidson and Grande's breakup when they had him jokingly propose to musical guest Maggie Rogers in a promo for the episode.
Grande apparently didn't like it so much. She tweeted (and then deleted) a tweet seemingly aimed at Davidson, writing, "For somebody who claims to hate relevancy u sure love clinging to it huh," Grande tweeted on Nov. 1. She promptly tweeted the words, "thank u, next," after that, foreshadowing the epic bop still to come.
She then dropped "thank u, next" less than an hour before SNL started on Nov. 3.
While Davidson didn't respond directly to "thank u, next" and Grande's epically timed release of it, you can tell in his comments about their breakup during "Weekend Update" that he's trying to make it clear that there's no bad blood between the pair after their breakup and it's no one's business anyway. Which is a good thing, considering Davidson reportedly had written a sketch about their breakup.
According to TMZ, the sketch was going to be part of the episode hosted by Jonah Hill, but Davidson decided to cut it when he learned Grande was not pleased that he was talking so publicly about their breakup. Elite Daily reached out to Davidson's team for comment on this report, but did not hear back by the time of publication.
Ari might be grateful for everything Pete Davidson taught her about relationships, but one thing she definitely is not grateful for is his talking about their breakup on live TV. Thank u, next.