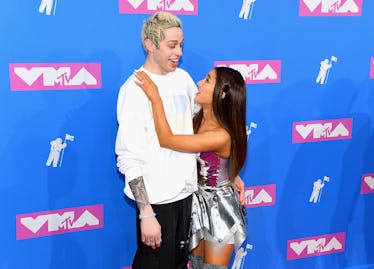 Pete Davidson Reportedly Hopes He & Ariana Grande Get Back Together, So Love Lives
Nicholas Hunt/Getty Images Entertainment/Getty Images
Gravidson shippers, here's some good news to get you out of the grieving period. Everyone's favorite quicker-than-quick couple could reunite in the future — at least, if Pete Davidson has anything to say about it. Per a new report, Pete Davidson wants to get back together with Ariana Grande, meaning that maybe, just maybe, love isn't dead after all. According to his friends, the SNL comedian is "still in love" with his former fiancé and sees a future with her down the road, so I'm never going to say never to this unlikely couple. Elite Daily reached out to both Grande and Davidson's teams for comment on the report, but didn't hear back by the time of publication.
It's been a rough week for young love after TMZ broke the news that the pair had reportedly split on Sunday, Oct. 14. Elite Daily reached out to Grande and Davidson's reps at the time of the breakup, but didn't hear back. Since then, it's been a whirlwind of emotion as the former lovebirds, who seemingly were getting more matching ink and having flirty love fests over Instagram just days earlier, have started adjusting to their lives apart. While Davidson has stayed publicly mum on their split so far, the comedian's friends are weighing in on the split in a Saturday, Oct. 20 interview with Page Six.
"I talked to Pete a few days ago and he was joking again," one of Davidson's friends told the publication about where the 24-year-old's head is at right now. "He's still in love with Ariana and sees a future with her."
Still, that doesn't mean that Davidson is trying to win Grande — who's been publicly struggling with the aftermath of ex boyfriend Mac Miller's death as well as the one-year anniversary of the Manchester bombing — back any time soon. "But, at least for now, He knows [the breakup] is for the best," the friend continued.
It might not come as a surprise to many that the pair were headed to splitsville after their short but very sweet summer of love. After all, Davidson and Grande got engaged after only a few weeks of dating, and apparently the cracks in their relationship started showing when things got hard. Previous reports have suggested that Grande ended things because she didn't feel like she was getting enough support after Miller's passing.
"I don't think they ever got the chance to really get to know one another," one friend told Page Six, while another attributed the split to Davidson being suddenly thrust into the spotlight.
"I never thought that relationship would last," he told the publication. "I rooted for them, but ... it's damn near impossible to have a serious relationship when you have everyone following your every move." Considering that Davidson has reportedly gotten death threats for being with Grande and been the brunt of nasty comments on social media, it's definitely possible that life in the public eye was a contributing factor.
For now, it looks like the former lovebirds are going their separate ways and nursing their wounds with the help of the closest people in their lives. According to TMZ, Ariana Grande headed to the Bronx on Saturday, Oct. 20 to spend time with her mom, while Davidson's friends told Page Six that the comedian is "staying with very close friends he considers family."
So, will Gravidson ever grace our Instagram feeds again? Only time will tell, but I'm hoping they hold off on the tattoo removals until they've talked things through.