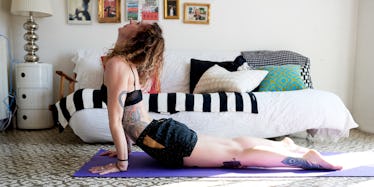 People Who Work Out At Home Deal With These 7 Struggles Literally Every Day
The feeling of moving into your first apartment after college is a mix of terror and satisfaction. Personally, my first place was the size of an actual shoebox, and I know many of my friends can relate to the struggles of navigating a tiny space to call home. What's more, people who work out at home deal with their own unique set of struggles in this situation, because seriously, adjusting your workout to accommodate a studio apartment forces you to be creative AF, to say the least.
First of all, if you make the effort to work out at home at all, I tip my hat to you, girlfriend. Coaxing yourself out of the comfort of your bed to squeeze in a HIIT circuit atop your cold, hardwood floor is admirable as hell. Once you break a sweat and the endorphins start flowing, though, you start to feel totally on top of the world, and you wonder what could really go wrong in the safe space that is your new, cozy abode.
But, soon enough, you realize there are a few persistent struggles that pop up time and time again when it comes to exercising in your apartment. For real, though, everyone has experienced these seven home workout struggles at one point or another, so if nothing else, take comfort in the fact that you are definitely not alone.