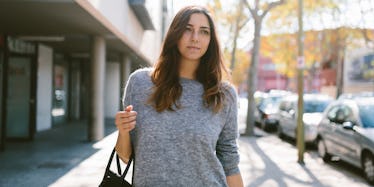 People Who Go Straight To The Gym After Work Deal With These 8 Struggles All The Time
Finding a workout routine that fits your busy schedule can be a tricky task, but once you get into a groove, it's generally smooth sailing thereafter. And as long as you're moving your body in a way that feels good, there's really no right or wrong time to squeeze in your sweat sesh. Some people hit the gym before the sun comes up, while others go later on at night, but personally, I've always deeply admired people who go straight to the gym after work. That's some real dedication right there, fam.
I mean, come on, after a long day of work, when you just spent eight or more hours fixing, like, 170 things that went wrong, the last thing you want to do is trek to the overcrowded gym and take on the treadmill. If you're like me, then the only thing you feel like doing after you get out of work is wrapping yourself in the fuzziest of blankets and watching reruns of The Office until you're sleepy enough to head over to your bed for the night.
But for people who hit the gym right after they clock out for the day, they never allow themselves to be led astray from their daily workouts by the tempting, sensual thoughts of their warm, cozy bed and their endless Netflix queue. Sure, it kind of sucks that you pretty much never see these people at your office happy hours, (no matter how hard you try to coerce them in your group text), but honestly, you can't help but respect their dedication to their fitness routine.
People who go to the gym straight after work deal with these eight things literally all the time, but believe me, they never let these struggles distract them from the fact that their sweat sessions make them feel freaking amazing, day in and day out.