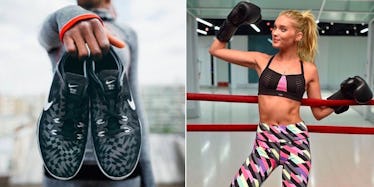 The Best Workout Gear To Keep You Motivated To Hit The Gym
Instagram Instagram
If you're like most people, your list of New Year's resolutions probably includes losing weight or exercising more.
But, did you know most people ditch their dreams of scoring bangin' bods before January even ends?
That's right. According to a study published by the Journal of Clinical Psychology, weight loss and exercise goals are among the top resolutions people make each year.
But within the first four weeks, one out of every three people gives up on his or her goal and goes back to old ways.
When it comes to hitting the gym on the reg, staying motivated is key.
My mother once told me, "In order to kick ass, you need kick-ass shoes," and the same philosophy applies to kicking ass at the gym.
Yep, there's nothing that will inspire you to break a sweat quite like a killer pair of yoga pants, some lit running shoes or a new fitness gadget.
So, I set out to find some amazing workout gear to motivate you to stick with your resolutions and hit the gym every damn day.
Take a look at the pictures below to see some badass workout gear that will keep you motivated.
Victoria's Secret Angel Sports Bra and Knockout by Victoria's Secret Tights
Bkr Water Bottles
L'urv Sportswear Running Wild Legging and Crop Top
The Upside Baroque Yoga Pant and Dance Crop
Fitbit Flex Wireless Activity + Sleep Wristband
Bandier Long-Sleeve Top