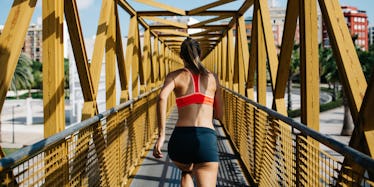 People Who Love Running Never Let These 9 Things Sabotage Their Runners' High
Everyone knows at least one person who's obsessed with running — and hey, maybe that person is you. If it is you, I'm willing to bet that a) you get chills every time you enter your name into a new marathon, b) you're basically riding a permanent, endorphin-infused runner's high, and c) you frequently say things like, "Ugh, I only ran 10 miles today." Ring a bell? Damn, people who love running are truly a different breed, and I only say that because running 26.2 miles for fun sounds like an actual form of torture to me.
For anyone in the running community, though, 26 miles is basically a piece of cake. Simply hearing the word "marathon" legit turns them on. Running isn't something that they simply choose to do to stay fit; it's their actual lifeline, and they rely on their daily pavement-pounding sessions to stay sane.
But along with that passion for old-fashioned cardio, runners also run into (pun definitely intended) some super relatable struggles. Yeah, the chafing and the obscene amount of sweat can suck sometimes, but runners never let these things get in the way of a quality sweat sesh.
Being a runner takes a whole lot of sacrifice, dedication, and hard work, but if it's your favorite form of fitness, then these struggles simply don't matter when you compare them to the sheer joy of conquering a new PR, or exploring a new city with your trusty sneakers and kickass running playlist.