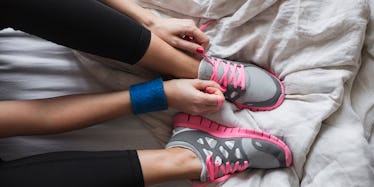 5 Athleisure Pieces You Can Pull Off Wearing To The Office And The Gym
I recently went through a pretty serious breakup.
It was with my gym bag, and honestly, I've never felt so free.
I mean, who likes lugging that bulky thing to work every day? And I know you're riding the struggle bus with me in the cramped gym locker room as you attempt to gracefully transition from Spanx to a sports bra.
I'm officially putting those days behind me and saying hello to the new love of my life: athleisure.
Here are five athleisure pieces to add to your wardrobe that are as chic as they are comfortable. And trust me, your boss will never know you're sneaking in that post-lunch workout.
1. Beyond Yoga's Bow-Clad Blazer
Beyond Yoga Kate Spade New York Bow-Neck Sport Jacket, $89, Neiman Marcus
Beyond Yoga teamed up with Kate Spade for this sleek, show-stopping jacket, and I'm now compiling a list of reasons to wear this baby around the clock.
Feel free to slip your sports bra on underneath so you can strip the jacket and transition straight from your desk to downward dog.
2. Lululemon's Tasteful Trouser
City Trek Trouser, $128, Lululemon
Lululemon, you've stolen my heart once again.
These minimalistic, stylish pants are comfortable enough for cardio but versatile enough to debut at the office.
A simple V-neck will complete the look and make it incredibly easy to sneak in a cycling class during your lunch break.
3. Sweaty Betty's Perfect Pantsuit
Supinity Jumpsuit, $175, Sweaty Betty
I was skeptical about a workout jumpsuit at first, but you honestly can't beat the comfort level of this bad boy.
Sweaty Betty lets you skip the fussy and awkward experience of getting changed in the locker room with this multi-purpose jumpsuit.
Plus, its lightweight, loose fit (including an elastic waist) is absolutely ideal if you're looking to treat yo'self to a post-workout snack.
4. Bobeau's Ruffled Blouse/Off-Duty Sweatshirt
Bobeau Ruffle Cold Shoulder Sweatshirt, $29, Nordstrom
With those adorable ruffles, literally no one will know you wore this to the office with the intention of sweating your ass off during a quick, midday run.
They'll just think you're stylish AF, and TBH, you are.
5. Betabrand's Versatile Chic Cardigan
Continuum Cardigan, $98, Betabrand
Call me an outfit repeater all you want, but I'm never taking this sweater off.
And thanks to this its versatility, I never have to. It's a sophisticated mix of two wardrobe mainstays: the wrap sweater and the infinity scarf.
Layer it over your favorite sports bra, add a pair of yoga pants, and you're set to smoothly segue from your computer to Kundalini.