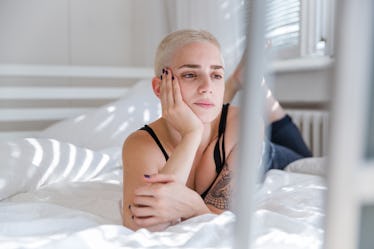 People Who Dread The Sunday Scaries Go Through These 7 Struggles Every Week
Sunday can simultaneously be the best and worst day of the entire week. It's the best day because you're really getting into the weekend vibe by then, so you're feeling totally relaxed and laid-back. Plus, everyone knows Sundays are for brunching, and there are few things better in this world than mimosas and bagels. But for people who dread the Sunday scaries, it's also the worst day of the week, because the next day is Monday, which is the first day of another long week at a job you might not feel so hot about. Sigh.
Everyone's been there before. The Sunday scaries are a real, verifiable illness, guys. OK, fine, maybe they haven't exactly been recognized by the Mayo Clinic yet, but feelings of anxiety and stress at the end of the weekend actually are real to some extent. The more technical term for these feelings is "anticipatory anxiety," according to NBC News, and it tends to build over the course of the day while you're anticipating the stress of the week ahead.
If you're the type of person who definitely feels some serious anticipatory anxiety by the end of the weekend, then you know about the Sunday scaries all too well. Here are seven classic Sunday struggles you might be familiar with when you can't help but dread the week ahead.