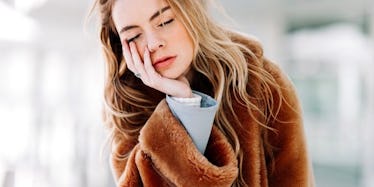 26 Subtle Things That Make Anyone Struggling With The Sunday Scaries Smile
There's nothing quite as emotionally daunting as the Sunday scaries. We all get them. You know how they creep up on you when you least expect it during your beautiful, glorious Sunday. You're heading back from boozy brunch with the mains and then you realize it's 4 p.m. and you have to actually be an adult and go to work tomorrow. Wasn't it just Friday like two seconds ago, though? The scaries are unfair, not welcome, and definitely not pretty. It's safe to say, Sunday scaries, we're not here for you... and we never will be. But, there are some small, subtle Sunday scaries cures that will make every girl who's hardcore struggling with these feels immediately smile... even if just for a bit.
Because we all know, once this week is over, the weekend awaits once again. After all, as Laura Ingalls Wilder once said, "It is the sweet, simple things of life which are the real ones after all." Let them happen, and let them brush those Sunday scaries away to the best of their ability.
1. We can all agree that watching The Bachelor, The Bachlorette, or Bachelor In Paradise with your mains is one of the only good things about Monday in general.
2. The fact that once tomorrow is over, there are only four days left of your work week.
3. That new outfit you have to wear that you bought over the weekend (even though your wallet is potentially crying). Because, let's face it, a Monday is so much more bearable when you don't have to struggle over what to wear at the buttcrack of dawn. A clutch new outfit is here to ease the pain.
4. Opening that text from the bae you met this weekend.
5. You have really epic plans made for the following weekend.
6. You actually meal prepped for the week (which is a rarity, I know). Having something other than Ramen noodles in your kitchen is extremely #adulting, so props to you.
7. That venti iced coffee from Starbucks that probably will have your name totally skewed, but it will get you through Monday morning, so you DGAF.
8. Finding out that everyone is down for thirsty Thursday plans.
9. Having a pint of your fave ice cream in the freezer from the night before.
10. Damn good Instagram pictures to post from the weekend.
11. Getting asked out on a date with bae.
12. A bottle of pinot, because, obviously.
13. Finding out that your ex ended things with his new flame.
14. Going back to work with a new haircut and color and acting like it's NBD (but it actually is a pretty freaking huge big deal).
15. A new mani and pedi in a fresh color of the season.
16. Charge cards are paid off and you're going shopping after work this week.
17. The new season of Grey's Anatomy is starting and you're beyond pumped.
18. The guy who cheated on you just got cheated on. Gotta love that feeling, amiright? Swish swish, bish.
19. The main squeezes made dinner plans at your favorite spot this week for GNO.
20. You have the cutest damn pup in the world, and his/her smile and cuddles just make everything way better.
21. You made a poppin' new playlist for your commute in tomorrow morning.
22. Hearing from a friend you haven't heard from in a long time.
23. Posting a fire Instagram and your ex boo likes it.
24. Finding out your vacation time has been approved, and you low-key already planned the entire vacation.
25. You casually find a $50 bill in your pocket when you're doing your laundry, because, #BrokeStruggles.
26. The betch nobody liked at work? Her last day was on Friday.