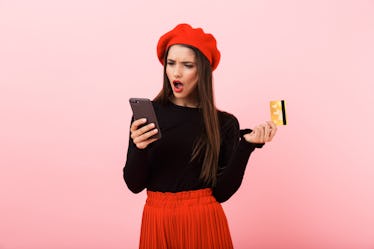 8 Cringeworthy Things Millennials Feel & Do When Their Credit Card Bill Arrives
Let me tell you a little horror story: Your credit card bill is coming. (Dun dun dun.) There are so many wonderful things about adulthood, including the freedom to do whatever you want with your free time, heading to happy hour with coworkers after a long day, living on your own or with your best friend, and the glorious feeling of payday. However, with all the perks come some major struggles — and paying your credit card bill makes you cringe like no other.
Sometimes, I don't even want to look at my bank account out of fear of what I did the previous month. It's a scene straight out of a horror movie. I know it's my own fault, and I should be more financially responsible, but it's just difficult when swiping is so easy.
Let's be honest: You don't want to be that one friend who bails on Friday night fun, but you know that every movie, bar, and restaurant you go to involves dishing out more cash than you'd like. So, when it's time to pay your bills, that's when you feel the instant regret of all those expenses.
You've definitely cringed from each one of these eight things before that are all too relatable. Who knows, maybe next month will be the first of many months when you spend less money, and the next bill will be easier to look at. (You and your credit card can only hope.)