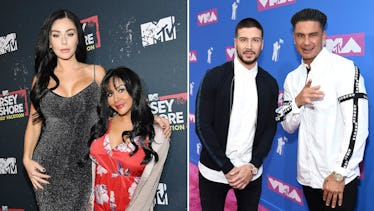 Pauly D Enjoyed Snooki & JWoww's Huge Fight On 'Jersey Shore' For This Reason – EXCLUSIVE
Dave Kotinsky/Mike Coppola/Getty Images Entertainment/Getty Images
Jersey Shore fans, you're in for one hell of a ride. Your favorite cast of guidos and guidettes are back to take over your TV screens with fist-pumping, partying, and some BIG life changes in the second season of Jersey Shore Family Vacation, which premieres tonight, Aug. 23, on MTV. And, while there are clearly some moments that are cause for celebration (hello, babies and weddings), others are much less pleasant and much more cringeworthy. If you've seen the latest trailer, then you might have caught Snooki and JWoww's fight on Family Vacation Season 2, and from the looks of things, some serious drama goes down between the two BFF's. Fortunately, the cast of Jersey Shore dropped by Elite Daily to give us more details about the explosive fight.
On Aug. 22, MTV dropped the trailer for Family Reunion's much-anticipated second season, and it's clear to fans that it's filled to the brim with all sorts of ~drama~ going on between the cast-mates. One particular event that seems to have thrown some members for a loop is the return of the always-controversial castmate Angelina, whom Snooki reveals will be joining them during their trip to Las Vegas.
In the trailer, you can see that JWoww is visibly annoyed at this revelation and the preview sure makes it seem like her arrival plays a role in the besties' rift this season.
Check out the trailer below and see for yourself:
But during their chat with Elite Daily, the cast hints that Angelina didn't Snooki and JWoww's fallout after all.
"Did you see the preview of us fighting?" JWoww asks, and Snooki responds, clarifying that the fight has nothing to do with Angelina, as the trailer's tricky editing suggests.
"We fought for another reason," Snooki says, adding, "That was sad. I hate to watch us fight. It's the worst."
But castmate Pauly D reveals that he actually enjoyed watching their argument come to a head. (Um, OK masochist.)
"I secretly like it," Pauly shares. "Because I know they're best friends. Because they never fight, and then when it happens, you're like, 'Aaaah!' But then after the fight, they're like, 'Oh my god, I'm so sorry.'"
Vinny chimes in, adding, "Nicole acts tough against JWoww, like, 'I'm not scared of you.' Meanwhile, she's shaking in her pants."
"And then I run," Snooki adds. At least she doesn't deny it.
"She knows I would never," JWoww says, making it clear that the last thing she'd ever do is try to hurt Snooki in any way.
Pauly chimes in, adding that "they hug five minutes later." PHEW. I'm glad to hear it, because I truly don't know what I would do without these two livin' it up together.
Let's just pause right here and talk about how JWoww and Snooki are just the ultimate BFF goals:
LOVE. THEM.
But JWoww does reveal that this fight was definitely not pretty, and not easy to go through. "That one was actually really drawn out," JWoww says, and adds, "That was dramatic."
"Yeah, that was so sad," Snooki agrees, and honestly, I can't imagine having to watch my best friend and I fight on television, where the entire world can watch it all go down. But fortunately, these two seem to be very much over their feud, whatever it was about — and for that, I am thankful.
The question is: What the heck caused these BFFs to have such an explosive fight? You'll have to watch to find out, I guess.
Jersey Shore Family Vacation: Part 2 airs on Thursday nights on MTV.