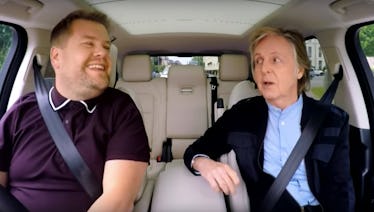 Paul McCartney Sang Some Iconic Beatles Songs On 'Carpool Karaoke' & You Need To See It
YouTube
In a world where pretty much every piece of news to appear on the front page of the internet is a dumpster fire of garbage, it's a breath of fresh air to see something that brings you literally nothing but joy. So that's why, when I woke up to see Paul McCartney's Carpool Karaoke, I did a little happy dance and maybe, juuusttt maybe, shed a single tear (or 20). Couple one of my all-time favorite artists with the hilarious James Corden strolling through the streets of Liverpool, singing to legendary Beatles songs, and I'm in musical heaven, y'all.
So here's what went down: We start off seeing James Corden sitting in his car, phoning a mate to see if he could help give him a tour around Liverpool. But Corden does so by pretty much singing word-for-word the lyrics to the song "Help!" by The Beatles, which I took as an understanding to get ready and prepare for who was about to enter the car. It was the iconic Paul freaking McCartney, and excuse me while I go check my pulse because HE IS MY EVERYTHING.
The video walks us through Paul McCartney's old stomping grounds — hitting up Penny Lane (where McCartney pens his signature on the sign and Corden jokes that literally nobody will believe that it was the real Paul McCartney who wrote his name down), reminiscing about the first song he ever wrote at 14 years old (you know, when the rest of the kids that age were probably still playing with dolls and toy trucks), and finished their tour in a local pub, where the pair belted out "Hey Jude" to a very surprised audience.
You can watch the whole thing below, but I promise you that it will bring up some very nostalgic memories like it did for me, and will probably make you want to text your Beatles-loving dad:
What really got me was when the duo was in the car, Corden tells McCartney, "Your music is so full of positivity, and joy, and a message of love and togetherness. I feel like it's more relevant now today than it's maybe ever been." And McCartney responds so perfectly, ultimately revealing how exactly he came up with one of the most iconic songs ever written, "Let It Be." He said:
That's really one of the strange things, we expected to last 10 years, but it keeps going on and on and on. And it keeps being relevant. I had a dream in the '60s where my mom, who died, came to me in the dream and was reassuring me, saying, 'It's going to be OK, just let it be.' And I felt sort of great and just, 'Boy, it's going to be great!' She gave me the positive word, so I woke up and went, 'What was that, that she said? Let it be? I've never heard that, but it's kind of good.' So I wrote 'Let It Be,' but it was all about positivity.
If you'll just pardon me for a minute, I'm going to go sob buckets of tears forever.
Corden clearly feels the same sentiment, and tells McCartney that that was "the most beautiful story I've ever heard." And honestly, same. Even Corden is seen wiping a tear from his face, and McCartney explains that "the power of music" will bring out emotions you didn't even see coming. Which makes total sense, because I was low-key weeping while singing along with them at my computer.
So, whether you're a die-hard Beatles fan (me, raising my hand enthusiastically), or you've only heard a few of their classic songs, I guarantee this video will move you and restore just a teeny bit of faith in humanity again.