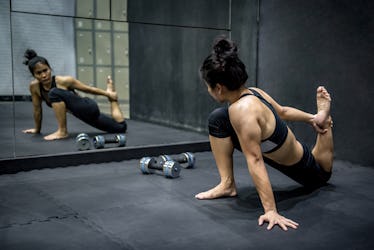 Only People Who Work Out At Night Can Relate To These 5 Annoying Struggles
Working out first thing in the morning sounds like a mild form of torture to me — like, I don't know about you, but I can barely convince myself to get out of bed for a quality bowl of cereal or a stack of pancakes, so do you think I'm going to willingly crank out some burpees? The answer is hell no. But really, just because I'm not a fan of #RisingAndGrinding doesn't mean that my preferred, evening-exercise time slot doesn't have its faults, too. People who work out at night know that planning for their evening sweat sessions comes with a whole set of struggles in and of itself, but still, that doesn't keep them from hitting the gym during those p.m. hours time and time again.
If you hit the gym after work on the reg, respect, girl. Look, I'm a vehement supporter of working out at night, too, but that doesn't mean there aren't days when I'd much rather be face-planting into my couch and watching Friends reruns to my heart's content — you feel me?
But fitness beckons, my friends — and you know you're always happier passing out in your bed after the fact. Real talk: If you love working out at night, then you probably know these five annoying struggles all too well. Luckily, the positives of the p.m. gym grind do tend to outweigh the negatives — but sometimes, complaining is just kind of fun, OK?