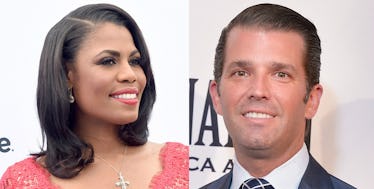 Omarosa's Latest Claim Involves The Alleged Affair Between Don Jr. & Aubrey O'Day
Kevin Winter/Getty Images Entertainment/Getty Images/Shannon Finney/Getty Images Entertainment/Getty Images
Is there anything as wild as all the drama Omarosa Manigault Newman created the week of Aug. 12, what with her new book and alleged secret White House recordings? The world has been in complete chaos following the release of Unhinged, in which she makes a variety of claims against President Donald Trump and the people closest to him — and it looks like things just took another turn for the worst. Omarosa reportedly saw "dirty texts" from Donald Jr. and Aubrey O'Day's alleged affair, and her comments on the subject are mind-blowing. Elite Daily reached out to the White House and the Trump Organization for comment on the claims, but did not hear back at the time of publishing.
If you somehow missed it, the alleged affair between Trump Jr. and the former Danity Kane member came to light back in March. Reports say the two met while they were filming The Apprentice in 2011 and started a fling that year, which allegedly ended in 2012 after his wife, Vanessa Trump, reportedly discovered emails between O'Day and Trump Jr. Neither the singer or Trump Jr. ever addressed the rumored fling publicly, however, Manigault claims that she heard about the alleged affair from O'Day herself. Elite Daily reached out to the White House and the Trump Organization for comment on the alleged affair, but did not hear back at the time of publishing.
According to People, a passage from Manigault's recently released book reads:
Aubrey and I knew each other in L.A., so when she did the show she called me to ask for advice. I next heard from her when she started seeing Don Jr. She told me, 'He's leaving his wife. They basically aren't together. They've separated.'
Manigault claims that she didn't believe Trump Jr. was going to leave his wife, as she was reportedly pregnant at the time. However, the next time Manigault met up with O'Day, the singer "showed me very personal photos that Don Jr. had sent to her," as well as "a long chain of dirty texts between them."
What does a person do in a moment like that? What does your mind conjure up? Do you try to block out the things you saw so you don't scar your brain forever? I, for one, certainly would.
However, Manigault wrote that she "filed their affair under 'not my business,' a list that was growing longer every day." When it comes to the White House's view on the veracity of Manigault's claims in Unhinged, Press Secretary Sarah Sanders said on Friday, Aug. 10 that the book is "riddled with lies and false accusations," per CNN.
Evidently, Manigault is not so bent on keeping quiet about racy subjects since she was fired from the White House in December 2017. In addition to the alleged affair between Trump Jr. and O'Day, Manigault made explosive claims against President Trump in her memoir — perhaps the biggest one being that he'd used the N-word while filming The Apprentice, per CBS News. Elite Daily reached out to the White House regarding the claim but did not hear back by the time of publication.
White House Press Secretary Sarah Sanders only fueled the drama around the matter after she told reporters she couldn't "guarantee" Trump had never used the racial slur during a news briefing on Aug. 14. However, the president himself has denied ever using it. Instead, he insinuated that Manigault only turned on him because she was fired from his administration via a series of messages posted to his Twitter on Aug. 13.
Even so, Manigault is really sticking by what she said. So, when it comes to what truth lies in her claims about Trump Jr. and O'Day, you'll have to wait and see what the facts reveal.