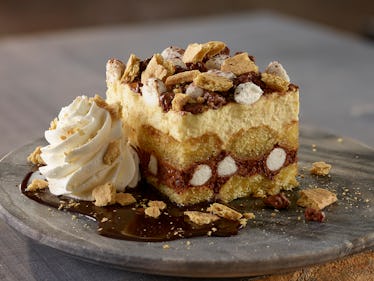 Olive Garden's New S'mores Cake Gives The Feeling Of A Warm Backyard Campfire
Olive Garden
Ah, New York City summers: There's pretty much a consistent odor of hot garbage around every corner, and the humidity is incredibly unforgiving. However, the absolute worst part about summer in the city is the fact that I can no longer enjoy the luxury of relaxing by a backyard campfire. I seriously miss those warm, mosquito-bitten nights spent sitting around a fire pit with friends, drinking beer, and, most importantly, making s'mores. Luckily, Olive Garden's S'mores Layer Cake tastes exactly like the quintessential summer experience, and if you, too, are living among sky scrapers, you honestly won't feel like you're missing out.
On Monday, July 23, Olive Garden released their latest and greatest creation: the S'mores Layer Cake, according to the press release. It features not one — but TWO layers of vanilla-soaked lady fingers, which are separated by an irresistible layer of creamy chocolate mousse and marshmallows (oh my god). The entire thing is topped with a decadent mix of graham crackers, toasted marshmallow, and even chocolate crunch. This might be TMI, but I'm drooling all over myself right now. Oops!
I'd recommend getting as many orders of these as you possibly can, though, because it's only going to be available through Sept. 23. One order will only set you back $6.79, so needless to say, I'll be ordering one of these during my lunch break everyday until it's discontinued. Goodbye, savings.
Olive Garden's Executive Chef, Jim Nuetzi, said in a press release that he's incredibly stoked about Olive Garden's newest addition to their dessert menu. While the sticky sweet treat is straight-up delicious, it might even be a little bit nostalgic, especially for people like me, who miss living in the 'burbs, and roasting ooey gooey 'mallows every single night.
In the press release, Nuetzi said,
We're excited to introduce this new dessert because it gives our guests the craveability they look for in our dishes mixed with the timely nostalgia of a summertime classic.
The arrival of Olive Garden's S'mores Layer Cake comes just after the departure of their create your own lasagna deal, called Lasagna Mia. Each customer was able to start out with a classic four-cheese lasagna, with a choice to add one of four sauces, including meat sauce, marinara, Alfredo, or five cheese marinara. Then, the customer could add one of six toppings, which included garden veggies or cheese ravioli for free, or mini meatballs, chicken fritta, grilled chicken, or sautéed shrimp for an additional charge. It was super customizable, and although I'm devastated to see it go, S'mores Layer Cake is a pretty dope replacement.
Don't get me wrong: A classic outdoor campfire is simply irreplaceable. However, Olive Garden's S'mores Layer Cake is pretty much everything I could ask for. It's the summer treat that I never knew I needed, but I've definitely been craving it all season. As you'd probably imagine, I'm already planning my next trip to the Garden. So, remember to get your empty stomach there before the end of September, because it's only around for a limited amount of time. TTYL, I'm on my way there now. Let the face-stuffing commence.