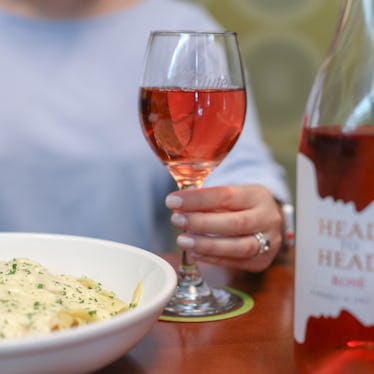 Olive Garden Is Finally Getting House Rosé To Complement The Unlimited Breadsticks
Olive Garden
Name a more iconic trio than rosé, warm weather, and carbs... I'll wait. I mean, seriously, there's nothing better than the feeling of downing several breadsticks, maybe a bowl of pasta, and a few refreshing glasses of rosé, all before basking in the sunshine. There's truly no superior state of being, y'all — it's a fact of life. And this summer, Olive Garden's house rosé is going to complement all of my carbo-loading feasts... I am so excited.
Olive Garden is releasing an exclusive house rosé wine to their menus, just in time for summer. According to a press release, the wine is called the Head to Head Rosé, and it hails all the way from Tuscany, Italy's Rocca delle Macíe winery. Head to Head was created by wine-loving sibs, Giulia and Andrea Zingarelli, and it'll officially be available on Olive Garden menus as of Tuesday, May 29. The best part is that Head to Head is hella cheap — a glass starts at a mere $6.50, and a bottle starts at $23. So get your glasses ready for the (inexpensive) sipping experience of a lifetime.
Per the release, Head to Head is made from the Sangiovese grapes, which are grown in Eastern Sicily. As a rosé, it maintains a coral pink color and features fruity apple and cherry aromas. The smooth and aromatic taste can be attributed to Sicily's warm weather, and the grapes' acidity gives it a very fresh quality. It sounds heavenly, and if you think I want anything else accompanying my eggplant parm-over-linguini, you're out of your freaking mind. Seriously, get out of here.
Robyn Albert, the director of beverage strategy at Olive Garden, stated in a press release that rosé is super trendy right now (as you and I both know), and that Olive Garden timed its release based on the unofficial start of summer. Because again, rosé and warm weather is seriously life-changing. Albert says,
Rosé is trending now. We wanted to launch our new wine in summer because rosés are refreshing in hot weather. And bringing in Giulia, a female millennial herself, made for a perfect partnership to develop the new wine.
Also, I don't know if you already knew this (because I most definitely did not), but Olive Garden actually offers a ton of Italian house wines. In fact, according to the press release, the Zingarelli family has been supplying Olive Garden with authentic Italian house wines for over two decades, since way back in 1995. I already loved Olive Garden more than I love most people, but this definitely wins them brownie points, in my book. They can officially have the key to my heart.
To accompany your glass or bottle of house rosé, try one of the Garden's latest and greatest lunchtime menu items: the Meatball Pizza Bowl. It's basically a cross between Chicago-style deep dish pizza and a classic Italian meatball plate, which is really everything I could ever want. They make it by inverting some pizza dough crust into a bowl shape, which is baked upside down to maintain its figure. That's topped with a creamy blend of melted Italian cheeses, as well as a pile of traditional Italian meatballs, which are soaked in red meat sauce. This dish sounds like pure heaven, and it's definitely about to appear in all of my dreams tonight.
If you were planning on spending your summer eating various types of bread and pasta, drinking pink wine, and, most importantly, enjoying the sunshine, then you and I should probably just drop everything and be best friends. That's really all I want to do this season, so if you're down, come with me. As they say, "Olive Garden is love, Olive Garden is life," y'all, and if you need me anytime soon, you can guess where I'll be with a glass of rosé in hand.