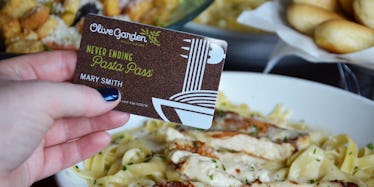 Olive Garden's Never Ending Pasta Is Back So Get Ready For A Huge Food Coma
Twitter
Hold your loved ones tight as you explain to them why you'll be entering a month-long food coma. You have another family that loves you... a family called the Olive Garden.
There are three important cards that should always be in your wallet or purse: your ID, your credit card and your Never Ending Pasta Pass.
Olive Garden is once again offering the yearly $100 card that will allow you access to unlimited pasta, breadsticks, soda and soup or salad while you dine with them.
Sure, a 100 bucks sounds like a pretty penne, but the Pass is so worth it.
Want to use a breadstick as a mustache before casually throwing it out for another one? Then this pass will let you fulfill that fetish... I mean, dream.
Last year, all 2,000 Passes sold out within a minute, but now the restaurant chain is offering 21,000 Passes that will be good from October 3 to November 20, which is a long f*cking amount of time.
Sure, you'll be loving having some pasta around Columbus Day, but by Thanksgiving, you will probably be 50 percent spaghetti.
The Pasta Pass goes on sale Thursday -- will you shell out that Benjamin and explain to your friends why you'll be spending most of your evenings at a nearby mall?
Citations: Here's Your Chance To Score Never Ending Pasta At Olive Garden (Huffington Post)