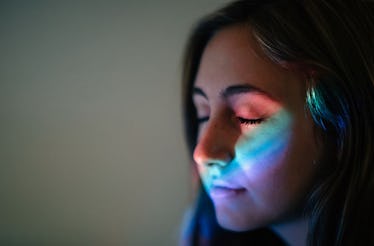 These 3 Zodiac Signs Will Have The Best Week & You'll Feel Their Passion
A major energy shift is upon us and it has something to do with the fact that the sun enters Scorpio on Oct. 23. Radiating its dark and mystical power throughout the depths of our souls, Scorpio season is a time of indulgent secrecy, lust for mystery, and most importantly of all, the most spiritual sex known to man. Seriously, get in touch with yo' bad self. Personally, Scorpio season is one of my favorites of them all, as it encourages me to dig deep and mine for meaning in every aspect of life. Poetry flows from the universe like water and I'm drinking every last drop. Luckily, some of us will be embracing this sign's powerful effects more than others, and as of October 22, 2018, this will be the best week for these zodiac signs: Taurus, Cancer, and Scorpio. You'll be just as lucky if your rising sign happens to be any of the following.
If you still don't believe in the magic of the sun entering Scorpio, remember that a full moon in Taurus literally takes place one day after it begins. How's that for magic? Clearly, we're not gradually meshing with Scorpio season. We're jumping right in and embracing the rush of fascinating change.
Taurus: You'll Experience Beautiful Revelations About Your Life
Your very own full moon is the star of the show this week, so take advantage of all the cosmic energy. It's here to lift you up and take you beautiful places.
When a full moon takes place in your first house of the self, it's a deep and emotional moment of transformation and revelation. Personal feelings will come into question and you'll be faced with eye-opening understandings of the person you're becoming. Because this full moon will be conjunct Uranus — planet of unexpected and radical change — you can expect surprises to radiate throughout your world. These surprises can be the blessing you've been hoping for. However, if they are more challenging, trust in the cosmic master plan.
Cancer: You're Beginning A Meaningful Creative Journey
The sun has officially entered your fifth house of fun, pleasure, creativity, self-expression, playfulness, sex, and oh, I could keep going, because there's nothing better than the fifth house.
Prepare to experience lightning bolds of inspiration, a creative desire to interact with the world, and an exhilarating excitement for everything in your surroundings. It's time to feed your inner artist with paintbrushes, poetry, music, and freedom. Create art simply for the sake of creating art. Don't worry about what anyone else things. Don't worry if your art will be a success. The critics of society can only hinder your rawest expression. The most meaningful things happen when you're doing something for no one else but yourself. Allow Scorpio season to teach you the meaning of truly befriending yourself.
Scorpio: Your Reign As Queen Of The Cosmos Has Begun
When the sun enters your first house of the self, the rest of the world bows in honor of your queenliness and places a crown upon your head. It's your energy that is currently in radiating throughout the cosmos and none of us can deny that. Scorpio season has begun and Scorpio's are in power, baby. Teach us your ways. Show us darkness. Tell us your secrets.
It's time to embrace everything beautiful about the person you are. Look at how far you've come. Thank yourself for everything you've triumphed. Your scars are a testament to what you're capable of. No matter how bad life gets, you rise from the ashes like the phoenix. After all, you are the sign that rules over the eighth house of reincarnation. Now is the time for you to be reborn once again.