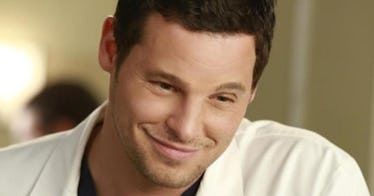 Someone From Alex's Past Is Heading Back To 'Grey's Anatomy,' So Get Ready For Drama
ABC
Buckle up, Grey's Anatomy fans, because you're about to get a major blast from the past. ABC has just revealed that Nurse Olivia is coming back to Grey's Anatomy, so expect major drama in the Alex-Jo universe. This is the woman who gave George syphilis in the Season 1 finale, after all, so you know she's capable of starting some world-class drama.
In an exclusive first look, Entertainment Weekly has confirmed that Sarah Utterback, who played Olivia in Seasons 1 through 6, will return to Grey's Anatomy in Season 14, almost a decade after her character was first written off the show. According to the report, Olivia will return to Grey-Sloan Memorial Hospital with her son in the April 26 episode, and Jo (Camilla Luddington) will be the assigned resident on the case, causing both she and her newly-engaged fiancé, Alex (Justin Chambers) more than a little discomfort. Obviously, Olivia and Alex have had a pretty intimate relationship in the past — which led to one of the funniest Grey's Anatomy episodes of all time, "Who's Zoomin' Who," the Season 1 finale — so her presence alone will likely be enough to wreak havoc on Alex and Jo's unstable relationship.
On top of Olivia's natural dramatic tendencies, the April 26 episode is slated to be the Season 14 finale, so it's possible that Olivia's presence may blow up Alex and Jo's relationship entirely. Maybe her son is Alex's baby? Who knows? It's a Grey's finale, so literally anything is possible.
Utterback's Nurse Olivia was a fairly regular character from Seasons 1 to 6, and she appeared in 18 episodes overall, according to E!. Apart from her role in the hospital-wide syphilis outbreak in Season 1, Olivia also sleeps with Alex (again) in Season 2, breaking up him and Izzie (Katherine Heigl), and is a prominent member of Nurses United Against Mark Sloan, the anti-McSteamy nurses group that popped up in Season 4. In Season 6, she was fired in an attempt to cut staff ahead of Seattle Grace's merger with Mercy West, and fans haven't seen her since.
Since leaving Grey's Anatomy, Utterback hasn't appeared in many movies or TV shows. She starred in the short-lived TV series Reception from 2011 to 2012 and had small roles in The Mysteries of Laura, Debra Messing's crime series, and Cleaned, a surrealist dark comedy. However, Utterback's relatively short filmography isn't preventing many fans from being super psyched about Nurse Olivia's return.
But not everyone is excited to see this old character make a comeback in Season 14. In fact, many Grey's Anatomy fans think that it's ridiculous to bring back Nurse Olivia at the same time that April (Sarah Drew) and Arizona (Jessica Capshaw), two fan-favorite characters who have been with the show for almost a decade, are being written off the show.
Nurse Olivia isn't the only character who's returning in Season 14. In the Season 14 premiere, Teddy Altman (Kim Raver) returned for an extended guest arc that reunited her with many of her old hospital pals, particularly Owen (Kevin McKidd). In true Teddy form, her arrival creates further tension in Owen and Amelia's (Caterina Scorsone) already fractured relationship. After Owen and Amelia decide to end their marriage in the March 29 episode, "One Day Like This," Owen reunites with Teddy for a brief fling, but she rejects him when she learns that he was just recently sleeping with Amelia, as well. Teddy has always been Owen's kryptonite, so it made sense to bring her back once his relationship with Amelia started imploding — even though many fans felt that bringing Teddy back was unnecessary when the show could be focusing on Arizona and April.
I get what these fans are saying, but I'm excited to see Nurse Olivia back in action. The early seasons of Grey's were so fun, and maybe adding her back into the mix would help give Season 14 some much needed levity. I never thought I'd say this, but maybe Grey's Anatomy needs another hospital-wide STI outbreak?