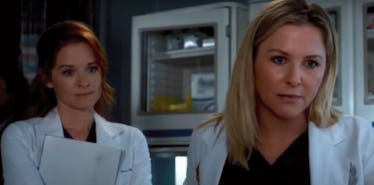 These Two Major Characters Are Leaving 'Grey's Anatomy' & Fans Are So, So Crushed
There's no denying that Grey's Anatomy has held a special place in our hearts for 14 seasons because of the amazing on-screen personalities. Even though we care so much for these characters, it's not uncommon for a loved one to leave the show and break us — I'm looking at you, McDreamy. At the end of this current season, we will not only be losing one of our favorite doctors, but two. According to The Hollywood Reporter, Arizona and April are leaving Grey's Anatomy — and we're seriously bawling beyond compare.
Arizona Robbins, who is played by actress Jessica Capshaw, is the pediatric surgeon who won us over with her bubbly personality. She fell in love with orthopedic surgeon Callie Torres, and the two characters ended up tying the knot on the show. We all swooned so hard for this couple. Even after they parted ways, so many of us still routed for #Calzona.
Robbins is good friends with trauma surgeon April Kepner, who's played by actress Sarah Drew. Kepner stole a piece of our heart as well, and it will be extremely difficult to see these characters go when the season comes to a close.
According to The Hollywood Reporter, Grey's Anatomy creator Shonda Rhimes revealed in a statement,
It's always hard for me to say goodbye to any of my characters. Both Arizona Robbins and April Kepner are not only beloved but iconic — both the LBGTQ and devout Christian communities are underrepresented on TV. I will be forever grateful to both Jessica and Sarah for bringing these characters to life with such vibrant performance and for inspiring women around the globe. They will always be a part of our Shondaland family.
UGH, cue all the tears! Even though April and Arizona are leaving the show, we will never forget them and cherish how much they impacted us.
Drew took to Twitter to address the news of her character's departure, revealing that she hasn't "really had the time to process the information," but she loves the fandom and her character, April.
Capshaw also shared the news on social media with her followers. She thanked Rhimes for giving her a "ride on this incredible rollercoaster," and what a "rollercoaster" of emotions Grey's Anatomy truly is.
Bidding farewell to favorite characters is never easy. You would think Grey's Anatomy fans would be pros at it by now with all of the loss they've seen thus far in the 14 seasons, but it never gets any easier. Fans have responded to the news in the way only Grey's Anatomy fans can respond — with crying Gifs.
There sure is a lot of crying that goes on at Grey Sloan Memorial Hospital, but thank goodness we have the Gifs to show how we're really feeling inside when we can't find the right words. We're bawling even more after Drew posted this tweet, wishing her wonderful costar a happy International Women's Day with pictures of the two of them on set together. Someone grab us a box of tissues — we can't handle it.
Executive producer and Grey's Anatomy co-showrunner Krista Vernoff revealed in a statement,
The characters of Arizona and April are permanently woven into the fabric of Grey's Anatomy thanks to the extraordinary work of Jessica Capshaw and Sarah Drew. As writers, our job is to follow the stories where they want to go and sometimes that means saying goodbye to characters we love. It has been a joy and a privilege to work with these phenomenally talented actresses.
We may be forced to say goodbye to April and Arizona, but we're just so happy to have been able to say hello to these two amazing women.