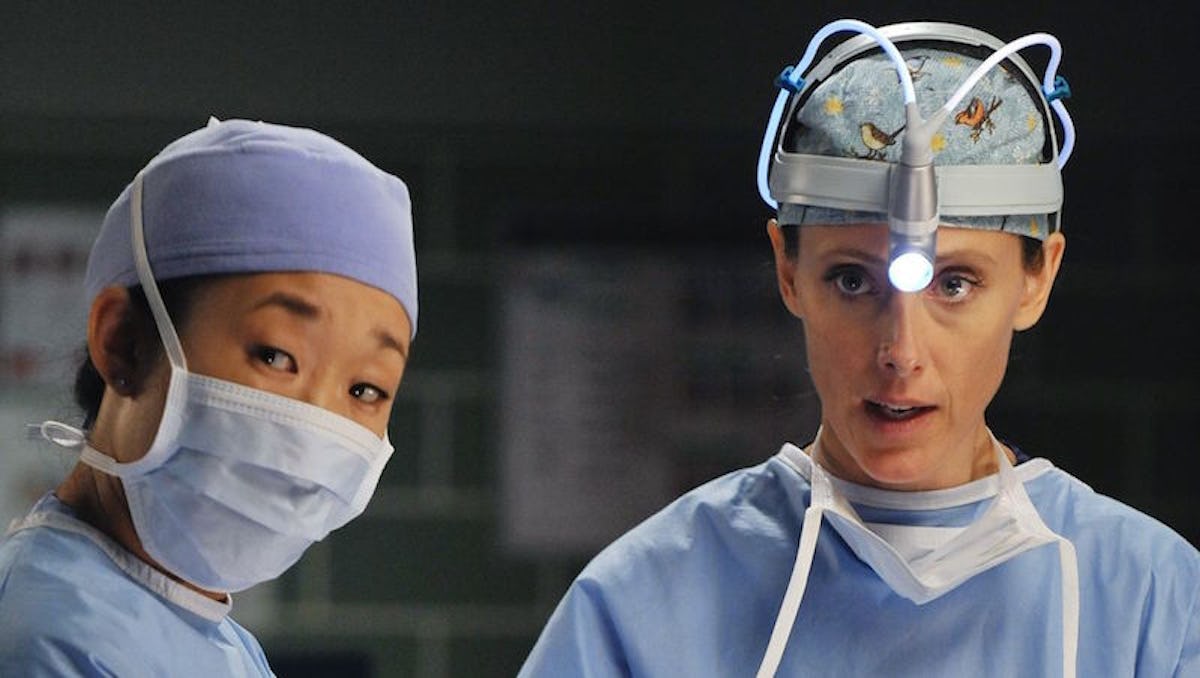 A Major Character Will Return To 'Grey's Anatomy' This Spring & Fans Are Rejoicing
ABC
Good news, everyone! Grey's Anatomy continues to bring back fan favorites from yesteryear as part of Season 14. Though undoubtedly some of us were hoping for Cristina Yang, that's still a no-go as Sandra Oh has moved on to posher channels like BBC America. Instead, it's Teddy Altman who returns to Grey's Anatomy for a second time.
Teddy Altman (played by Kim Raver) first arrived at Seattle Grace Mercy West Hospital in Season 6 as the attending cardiothoracic surgeon. She lasted three years on the show until she was fired by Dr. Owen Hunt (Kevin McKidd). She wasn't dismissed in disgrace, though. It was mercy firing in order to force Altman to move on and take the chief position with Army Medical Command.
Altman and Hunt were a bit of a star-crossed couple, with Altman having been in love with Hunt despite him being engaged to another woman and then him being in a relationship with Cristina Yang. (In fact, Owen brought Teddy in as a "present" to Cristina so that one could mentor the other. The entire thing was just a little off.) Despite this, Altman made herself a home in Seattle and in fans' hearts. Eventually Owen married Cristina, and Teddy married Henry, and it was all a little strained. But they managed, until Henry died, and she left at the end of Season 8.
So, what exactly is Teddy doing back at the hospital? This is her second stint in Season 14. She originally turned up in the fall for a three-episode arc to help lead up to the 300th episode of the series.
Reports do not say how many episodes Raver will be back for this time, though the wording suggests it will be through the season finale. By the end of her three-episode stint last fall, it was clear the writers were keeping the door open for her return. Though she was supposedly "helping" Owen when his sister Megan (Abigail Spencer) re-appeared after being held hostage in Iraq, it seemed that the show was testing the waters at how a Teddy return would work.
At the time, actress Raver made no secret of wanting back on the show in a full-time role. She said,
I love being part of this company. I love working with Shonda Rhimes. I love working with the cast. Literally for me it's definitely home. I feel fortunate enough to be able to go off and join other companies, but every time I come back to Grey's it's really like being home.
Will this new arc lead to a full time position in Season 15? After all, both Teddy and Owen are now conveniently single, and the flirt factor between them was high last fall.
Fans were ecstatic at the news.
Others were not so keen on the idea of Teddy and Owen finally getting together though, because in their opinion, Teddy deserved a better man.
Others thought that the character deserved to be more than just a side piece.
Others are not over the way she and Henry ended.
While some saw her return as proof other favorites could come back too.
A few just weren't feeling it.
And at least one had jokes.
Grey's Anatomy continues with the second half of Season 14 on Thursdays. Though its neighbor Scandal will depart the airwaves at the end of this year, it was confirmed that Ellen Pompeo has signed on for two more seasons as Meredith Grey, so the show isn't going anywhere anytime soon. As Pompeo noted at the time, when they make these sorts of changes bringing back actors and changing up the cast, it gives new energy to the series. So, perhaps Teddy could be here to stay for a while.