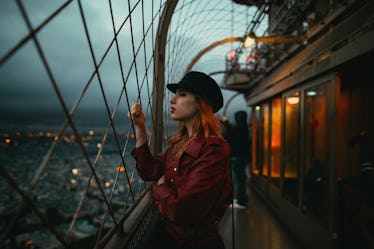 It Makes So Much Sense That These 3 Zodiac Signs Will Have The Worst Week
Halloween has come and gone, but unfortunately, the horror never truly ends. The cosmos take the spookiest holiday of all seriously, and on Oct. 31, Venus retrograde maintained her petty attitude by strutting her way right back into Libra, shifting the effect of her topsy-turvy ride. If you thought Venus Rx in Scorpio was overwhelming enough, this transition backwards means that it's time to make a decision. While Scorpio took your love life into the underworld, Libra will ask you whether or not you're willing to go to Hell and back for love. I know that sounds romantic and all, but trust me, Hell is not an easy place to be, and as of November 5, 2018, this will be the worst week for these zodiac signs: Aries, Taurus, and Libra. If any of the following happen to be your rising sign, you're definitely not in the clear either.
And, that's not all: Uranus — planet of rebellion, erratic change, and progression — has been retrograding through Taurus, but as of Nov. 6, it will officially be backpedaling into Aries. This douses her identity-shaking retrograde with fire, so prepare to feel your instincts on edge. Chances are, everyone's going to become way more impulsive than usual.
Aries: You're Going Through An Inner Transformation
It's been a rough ride for you lately, Aries. I won't mince words when I say it. Although I know that, chances are, your ambitious nature has guided you through an upward climb, it still hasn't been without sacrifice and hardship. After all, Venus retrograde is still affecting you in your seventh house of partnerships, making you rethink everything you thought you knew about love and commitment.
However. the cosmos are about to make things even more unpredictable, because as of Nov. 6, Uranus, the great revolutionary in astrology, has officially retrograded so far backwards that it is now in Aries. This essentially lights a fire within that burns so hot, you may find yourself having a way shorter fuse than usual. Prepare for the unexpected.
Taurus: You May Feel More Scatterbrained Than Usual
Oh, Taurus. I know you care very much about maintaining order and sending an image of perfection into the universe. However, when your ruling planet is in retrograde, a lot can go wrong.
Because Venus — planet of flirtation, romance, luxury, and money — is retrograding through your sixth house health, work, and routine, the cosmic forecast indicates that you may be going through a very disorganized or indulgent time. However, it's all meant to put you face-to-face with your most sluggish and unproductive habits. This period is meant to help you think about all the ways in which you can improve the way you harness your work ethic. Allow yourself to contemplate what you can change, and then commit to your decision.
Libra: You May Be Experiencing An Existential Crisis
Let's just take a deep breath together, Libra. After all, Venus — your ruling planet — has been in retrograde for several weeks now. Unfortunately, the complex energy it's been infusing into your life took a nasty turn last week. Venus Rx has shifted from Scorpio back into Libra, concentrating her drama directly onto you.
Now, this retrograde takes place in your first house of the self, and if you've been rethinking everything about the person you are and what you want out of life, that makes total sense. The first house has to do with your overall character, your appearance, and the way not only the world sees you, but the way you see you. It may be time to let go of the person you've been and finally fall in love with the person you're becoming. They've come a long way.