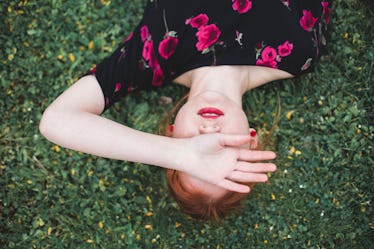 These 3 Zodiac Signs Will Have The Worst Week, But This Is Why Nothing Is Your Fault
Have you been putting your foot in your mouth lately? Did you forget to save any important documents? Has your stressful ex been blowing up your phone with "I miss you" texts? If so, it may have a little something to do with the fact that Mercury will be in retrograde until Dec. 6. In case you're not exactly sure how Mercury is capable of wreaking havoc on your world, let me fill you in. Astrologically, Mercury rules over the mind, the way we communicate, and the way we process information. When it's rolling backwards through apparent retrograde motion, it's taking all of us with it. Because this planet has everything to do with how we express ourselves, things have a way of getting totally confused when it's out of order. Keep this in mind when I say that as of November 19, 2018, this will be the worst week for these zodiac signs: Aries, Gemini, and Virgo. Chances are, you'll feel just as disturbed if any of the following zodiac signs are your rising sign.
And, that's not the only reason this week may be tough: On Nov. 23, a full moon in flighty, frazzled, and emotionally unsure Gemini will throw us all for a whirlwind. Because this full moon will form an aggravating square with combative Mars, it could cause energies to clash.
Aries: You May Be Feeling Unstable And Over-The-Top
If things have been feeling totally unpredictable in your corner of the world for the past couple of months, it's no wonder. Uranus — planet of erratic change and revolution — has been rolling through retrograde in your first house of the self. When Uranus is in retrograde, it's capable of making us all feel as though we're imploding with volatile and insubordinate ideas. Because this energy is concentrated on you, it can have you feeling as though your identity is shaking within.
However, this unpredictability doesn't have to be a negative experience. In fact, you might just be loving every minute of it, especially now that the sun is in your ninth house of adventure. Enjoy the ride.
Gemini: It's Bound To Be An Emotionally Overwhelming Time
Take a deep breath, Gemini. This week is jam-packed with intense energy that will more than likely overwhelm you. With Mercury — your ruling planet — retrograding in your seventh house of partnerships, your closest bonds might be receiving a heavy dose of confusion and miscommunication. It's time to rethink the way you function in relationships and settle for nothing less than the love and commitment you deserve.
That's not all; a full moon will radiate through your first house of the self this week. While full moons are a complicated and emotionally chaotic time as it is, this one will be forming unsettling connections with aggressive Mars and exaggerating Jupiter. Trust in the growing pains to come.
Virgo: You May Be Feeling Confused And Disconnected
Are you feeling totally detached, possibly even disconnected lately? If so, it may have something to do with the fact that Mercury — your ruling planet — is in retrograde.
This time around, the hustle and bustle is hitting you where everything is most sensitive: your fourth house of home and family. This astrological house has everything to do with your childhood, the values you grew up with, and your idea of what makes home "home". If you're totally rethinking everything that has to do with your most intimate base, the cosmos are on your side. Even though drama and conflict with family may resurface, it's meant to help you sort through lingering problems, heal from the pain, and eventually, make all the right decisions.