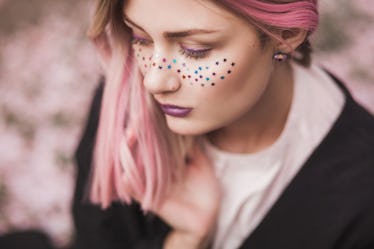 These 3 Zodiac Signs Will Have The Worst Week, But The Next One Will Be Better
Brace yourselves, astro warriors. As of this week, we're leaving behind one retrograde and heading straight into another. If you want proof that the cosmos never rest for one second, here it is: On Nov. 16, Venus — planet of love, friendship, romance, and luxury — will finally station direct in Scorpio. However, less than 24 hours later, the universally dreaded Mercury retrograde will begin in Sagittarius. I don't know about you, but I'm spent. Venus retrograde was definitely no joke, and I'm sure it was a way more emotional ride than any of us were even expecting. Unfortunately for us, the chaos truly never stops, and starting November 12, 2018, this will be the worst week for these zodiac signs: Aries, Gemini, and Virgo. You'll feel the stress just as deeply if any of these happen to be your rising sign.
However, just because the cosmos are exerting more challenge on us than usual doesn't mean that it's not without purpose. Although it may seem like the universe just enjoys torturing us, there's a far bigger picture to consider. After all, Jupiter — planet of luck, prosperity, and expansion — did just enter open-minded and spontaneous Sagittarius. Even if times may seem tough, you're on a journey that's leading somewhere beautiful.
Aries: You May Be Going Through An Unpredictable Time
Have you been having a stressful past few months or what? I mean, Venus was just retrograding through your intimate eighth house of death and rebirth, teaching you a whole new meaning of what love is. Let's add that to the fact that Uranus — planet of radical and unexpected change — has been retrograding in your first house of the self. Have you been itching to make a drastic change? Has it been difficult for you to fight against your impulses?
There's no doubt about it: You are quickly ascending into the next phase of your life and not everything gets to come with you. If things have been coming to an end, try not to look backwards. Instead, keep moving forward.
Gemini: Your Love Life Could Be An Emotional Roller Coaster
We all know what happens to you when Mercury is in retrograde. After all, Mercury is your ruling planet, and when it's having some trouble, so are you. This time, it spirals through your seventh house of partnerships. Get ready, because a seriously emotional time is coming.
Mercury retrograde (especially when it's in the seventh house) is known for encouraging you to reach out to people who are no longer in your life. It's just as capable of making them reach out to you. If your ex suddenly pops up out of nowhere, it's no coincidence. It may be time to get a sense of closure, but don't make any important decisions about your relationships just yet. Mercury retrograde is meant to be a period of introspection, not commitment.
Virgo: You May Be Facing Your Childhood Fears
If you follow astrology, you probably know all about how Mercury retrograde affects you. If not, I'll give you a hint: It's harder on you than almost any other sign in the zodiac. Why? Because Mercury is your ruling sign. This time, it takes place in your fourth house of home and family. Chances are, this period is going to cause all your family history to resurface.
Prepare for childhood traumas, deep-seated conflicts, and unspoken drama to creep back into your world. However, it doesn't have to be all that bad. You can use this time for some necessary introspection and work through any issues you have with your relatives. Allow yourself to heal from the root of all your problems.