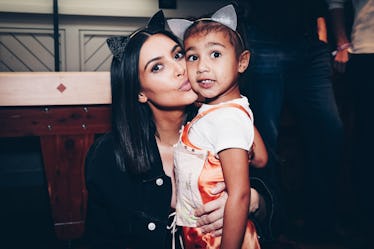 North West Got A $750 Alexander Wang Bag For Her Birthday & I'm So Jealous
Handout/Getty Images Entertainment/Getty Images
It's almost not fair just how rich and spoiled North West is at 4 years old. I'm serious, the cool preschooler is the epitome of luxurious style goals, often sporting items from the most high-end fashion brands from Givenchy to Balmain that I could never, ever fathom spending money. (Not that that's necessarily by choice.) Her latest wardrobe update really has me second-guessing my life's path, though: North West got a $750 Alexander Wang bag for her birthday. Yes, 7-5-0, like the amount of rent for common folks. Read it and weep.
Although West's birthday is still more than a week away (June 15, to be exact), designers have already started sending her trendy gifts. On June 1, Kim Kardashian took to Instagram to share a video of one of her daughter's presents — a mini leopard-print handbag that's priced at a staggering $750. "Oh my god, North is the luckiest girl in the world. Who gets this bag from Alexander Wang?" Kardashian gushed in the post.
As if North's luxurious gift wasn't already really, really, really hard to come to grips with, the reality star later realized that Wang had actually sent West not one, but two bags for her big day, and shared another Instagram Story flaunting off the tiny, glittery purse.
"Wait, look at this Wang bag that North got, I cannot even believe it. I missed this last night. Love it," Kardashian exclaimed.
Is it weird that I want to be adopted into this family for these kinds of perks?
On top of North's new fashionable gifts, I'm guessing she's gonna have an unforgettable birthday celebration. In 2017, her family celebrated by throwing a princess-themed party at. Chuck E. Cheese's, where the toddler donned a bedazzled tiara and a pink blush dress. (Every preschooler's dream outfit, right?) The Kardashian Klan later threw West a joint Moana-themed get-together with her cousin, Penelope Disick, too. The birthday girls dressed in full-on Hawaiian garb, including adorable, colorful skirts and leis, and were even visited by actors dressed as characters from the Disney film. It doesn't really get much better than that, you guys.
In addition to their unique celebrations, the Kardashian/West family has always given the best gifts, which means that Northie can look forward to getting some pretty interesting surprises. Back in December, the KKW Beauty mogul took to Instagram to videotape her Christmas gifts from her hubby, Kanye West. At first glance, it looked like he'd only gifted her random items from companies like Disney, Netflix, Adidas, and Amazon, but it turned out to be much more special than that. Kardashian started: "OK, so for one of my Christmas presents from Kanye he gives me this little box with a Disney Mickey toy, Apple headphones, Netflix, Amazon gift cards, and Adidas socks."
She continued, "But then I open the next box and it is stock to Amazon, where he got the gift card, stock to Netflix, stock to Apple where he got the headphones, Adidas stock, and Disney stock."
According to People magazine, Kardashian seemingly received 920 shares to The Walt Disney Company, which is valued around $100,000. She also received 995 shares of Adidas stock valued at $169.40 per share as of Dec. 26. People estimated that the Adidas designer likely spent around $100,000 between the rest of the stock purchases based on what we saw.
GOALS, GOALS, GOALS!
I know I've been pretty dramatic here, but whatever the family decides to do for West's birthday, I'm gonna be right there admiring it. I just have one last question before I go: What's good with an invite, guys?
Can't hurt to try, y'know?