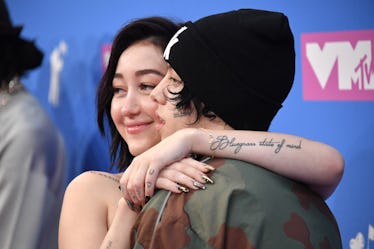 Noah Cyrus & Lil Xan's Body Language Before Their Split Shows They Weren't That Close
Mike Coppola/Getty Images Entertainment/Getty Images
You can see some celeb breakups coming from a mile away. Others may take you completely by surprise. According to Noah Cyrus and Lil Xan's body language before their split, we should've seen it coming, which was news to me. I was completely blindsided when I heard these two had broken up. Their young love seemed so genuine, but body language expert Blanca Cobb says she's not surprised by their breakup at all.
But first, some background on their breakup drama: On September 3, Xan took to Instagram Stories to say he felt like he was being cheated on. This was reportedly based on a picture Cyrus posted with her arm around her producer, and, according to Page Six, a meme that Cyrus sent him of Charlie Puth's head on a naked body. I know. It's a lot.
Then Cyrus turned the tables, claiming he actually cheated on her. She said they hadn't seen each other in almost a week and that she actually noticed a hickey on Xan's neck during a FaceTime call. He claimed it was just a bruise. She wrote, "Cheaters like to accuse their partners of cheating to make themselves feel less guilt. This isn't the first time this has happened to me and now I'm being forced to deal with crazy accusations when I'm not even sure where all this came from." Their entire exchange since Xan accused Cyrus of cheating has been through Instagram Live and Instagram Stories. Aka, very public.
Based on some of the couple's pictures from their VMAs red carpet debut, Cobb says she feels Cyrus and Xan were disconnected, even before their very messy, very public split. "From July to August, so within a month, that's when things are really hot and heavy and steamy for most couples," Cobb tells Elite Daily. "When you're really emotionally connected to somebody, your body language mimics, or parrots, or copies, and it's all done subconsciously, of your partner. You're really connected. I'm not seeing that in these photos. Having said that, that doesn't mean [in] every picture you have to be mirroring each other, but they're just very disconnected." Let's see what else she has to say about the couple.