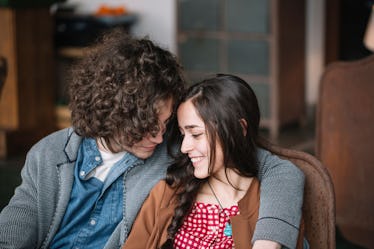 How To Tell If Your Partner's High-Key In Love With You, According To Experts
Being in a committed relationship is awesome. You have a partner, you're having great sex (hopefully), and you're learning more about yourself and growing as a person. Really, it's awesome, but there are still moments when you're unsure. Maybe your partner still hasn't said the ~L-word~ so you're asking yourself "Are they in love with me?" on a daily basis. But, aside from them actually telling you, there are ways you can sort of guess that they're legit in love with you.
Yes, no matter how long you've been with someone, it can still be scary to not know whether or not they're in love with you. It's a big deal, and it's fair to be anxious about not knowing. And if you want to sort of test out whether your partner could be in love with you, then look at their habits, their way of communicating with you, and more, and there's a good chance you'll be able to tell if they're in love with you.
If you're in love with them, but don't want to tell them until you're sure they feel the same way, then read on. These tips will help you know for sure, and that's the best feeling.