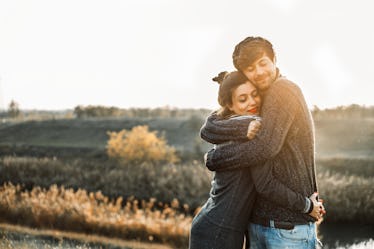 4 Ways To Tell If Someone Is In Love With You, Even If They Haven't Said It
Once you start dating someone you really like, there comes a time when you start to wonder if their feelings for you have gotten stronger, especially when you find yourself thinking about them non-stop and the excitement leading up to seeing them makes your stomach do flip-flops in overdrive. If you frequently find yourself thinking, "How do I know they love me?" the good news is that even if they haven't officially dropped the L-bomb, that doesn't mean that they aren't feeling as starry-eyed as you are.
It goes without saying that professing your love to someone is a pretty big step in any relationship, and depending on their past experiences, some people are much more reserved about making their feelings known. If they are trying not to rush into things but have developed some feels, then a pretty sure-fire way to tell is to look at how they are behaving. Their actions are typically a dead giveaway if they've caught the love bug. Elite Daily spoke with dating and etiquette expert April Masini of Relationship Advice Forum to find out how someone behaves when they're in love. If you notice your bae has been doing these four things, then an "I love you" may certainly be on its way.