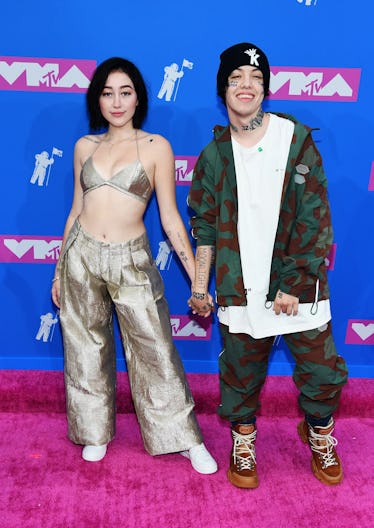 Noah Cyrus & Lil Xan Have Apparently Broken Up & A Meme May Be To Blame
Nicholas Hunt/Getty Images Entertainment/Getty Images
Noah Cyrus and Lil Xan weren't built to last, it seems. The couple, who only recently announced their relationship to the world, is already having some romance woes — and the reason is... really very odd. Believe it or not, according to social media, Noah Cyrus and Lil Xan have apparently broken up over a fake nude photo of Charlie Puth. A meme, if you will.
Yeah, you read that right.
Lil Xan took to his Instagram Story on Monday, Sept. 3, to express doubt about Cyrus' faithfulness to him. "I feel like I'm probably being cheated on," Lil Xan wrote in an Instagram Story, as reported by Hot New Hip Hop. "Bad things always happen to the good guys so ima be an a**hole from now on if you ain't gang."
In a since-deleted Instagram Story of her own, Cyrus revealed the text that was reportedly the catalyst to the downfall of their relationship. In a screenshot posted to Cyrus' Instagram story, it appears the singer texted Lil Xan a photo of a naked body with Charlie Puth's head Photoshopped onto it, which reportedly prompted Lil Xan to think Cyrus was cheating on him. Elite Daily has reached out to both Cyrus' and Lil Xan's teams for comment on the breakup, as well as the cheating allegations, but has not heard back at the time of publication.
In any case, following another Instagram Live from Lil Xan and a since-deleted, tearful Instagram Story from Cyrus, it seems the two young stars split rather promptly, after just a few weeks of courtship. In his Instagram Live, Lil Xan let fans know that the video for the song the two were collaborating, "Live or Die," would not be coming out:
The 'Live or Die' video is not gonna be coming out at this point, because I've been informed, like, you know when you, like, like a girl and sh*t and whatnot? But I've just been informed that basically it was all fake, and I'm being used. So f*ck it. I guess I was just being used. I thought, you know, I was in love, but whatever. I'll take that L. Heartbreak soldier. Thanks, Noah. Hope the song does well, if Columbia puts it out. Love all my fans, though.
While Cyrus didn't initially reference a breakup between the two specifically, she did post a series of videos in which she was crying, and spoke about the fact that "things suck":
Guys, the truth about it all at the end of the day is that things suck, and that days are gonna suck, and that's just OK. And I want you guys to know that you're good on a sh*tty day. Everything's gonna be OK, though. I'm trying to stay super positive. Breathing. That's what y'all should all do if you're just sad or having a sh*tty day. Breathing is super important for me.
Cyrus then posted the screenshot that reportedly started it all, which she captioned, "I'm heartbroken and confused. This is the meme I sent Diego that made him think I'm cheating on him." (Diego Leanos is Lil Xan's real name.)
It's an unfortunate and unexpected turn of events, for sure, especially since the two were literally just on the red carpet at the 2018 MTV VMAs gushing about how much they love each other, with Lil Xan smushing his face into Cyrus.
They apparently met not so long before that, on Instagram when Lil Xan decided to send Cyrus a DM. Although the message went ignored for months, the two finally found their way to each other.
"Xan slid into the DMs. It works people," Cyrus told E! News at the 2018 Teen Choice Awards in August. "Actually, it didn't work. He DMed me like in February and I didn't see it for months and then I saw that he was following me and I was like, 'Lil Xan, cool, he's following me. I'll follow him back.' And then I saw his DM and we're just hanging out making music."
Not long after, the two were basically inseparable. Not to mention, they were also posting their photos all over social media.
Exhibit one:
Clearly, this was at the peak of their young love.
Then, just a few weeks later, the two were getting cozy again:
And then, they gifted the media with this slightly awkward red carpet appearance at the VMAs:
They almost seemed made for each other. Sadly, it seems, their love just wasn't meant to weather as many storms as they thought it would. Cyrus, who appears to see the situation as a misunderstanding, definitely seems upset. Lil Xan is, too, but judging from his social media posts, you get the sense that there may be some anger he's working through.
With any luck, this'll all be resolved in the future. For now, it's just a mess!